Anytone AT-D878UV DMR VFO Operation Dual Band Two Way Radio with GPS
The Anytone AT-D878UV is a handheld portable radio for DMR digital radio (compatible with MOTOTRBO Tier 1 and 2), traditional FM is also supported. In contrast to many other DMR devices, the D878UV offers true VFO operation. Here, a radio operator can set a frequency and transmit parameters as usual, instead of accessing pre-programmed memory channels only. This makes this radio ,uch more suitable for amateur radio than other DMR handhelds. Of course, the Anytone D878UV also comes with memory channels, 4000 to be precise. But you don't just need to depend on pre-programmed channels. A further difference to other DMR devices is the possibility to change most (not all) parameters on the device. So you don't have to rely on computer programming for every small change. However, the settings for really all parameters (e. g. the DMR ID) are only possible with a corresponding (free) PC software.
New The AT-D878UV is the successor to the immensely popular D868UV. New with this radio is - among other things - the APRS function. The '878' has more internal program memory which enables the manufacturer to incorporate more features in software. For example you can now set all APRS parameters through the menu, there is no need to reprogram the codeplug for such changes. And another new feature is 'roaming', i.e. the function where a repeater is selected automatically by checking the reachability of repeaters from a pre-defined repater list.
The further feature set of the AT-D878UV is very extensive. 4000 different channels can be stored (digital and analog, also mixed operation possible); 10000 talk groups are configurable and the memory holds up to 150,000 contacts. In analog operation, functions such as DTMF, CTCSS and DCS are supported, as well as coding with two-tone and five-tone signals. A tone burst of 1750 Hz is also available. Five buttons of the radio can be assigned individually with functions, so that each user can adjust this radio to his or her personal preferences. The 1.77' large Colour display can be illuminated to different degrees of brightness and is easy to read even in the sunlight. To save power, the display is switched off after an adjustable period of time.
Another feature to highlight is the option to store multiple DMR IDs. So it would be conceivable to use the device both in a professional company radio environment, later on with another ID in the amateur radio band. Or several family members share one device. The Anytone AT-D878UV is equipped with a GPS receiver, the position data can be transmitted by radio. The AT-D878UV is a Dualband device for 2m (VHF) and 70cm (UHF), on both bands you can work analogue in FM or digital in DMR. In addition, a receiver is also available for the WFM broadcast band. The transmitting power can be set in 4 steps from a minimum of one to 6 watts (VHF) or 7 watts (UHF). The headphone/microphone jack is compatible with Kenwood or Wouxun. The antenna connection is a recessed SMA connector, so you can use Diamond's optional antennas, for example those which end in 'J' in the product designation. The programming cable is included in the scope of delivery, the programming software must be downloaded (for free) from the manufacturer.
Features of the Anytone AT-D878UV
1.77 Zoll Colour LC Screen

10-keyboard, 5 freely programmable function keys

Dualband 2m/70cm (V/U, V/V, U/U)

Channel width selectable 12.5/25 kHz (analog) or fixed 12.5 kHz (DMR)

Digital: DMR (Tier I/II) and analogue FM

WFM Receiver 87.5 - 108 MHz

Up to 5 DMR IDs configurable

4000 Memories, 10000 Talkgroups, 150000 User List entries

250 Zones (memory banks) useable

Display of ID (Call sign) of opposite station

Two timeslots settable, all Colour codes settable

Output power 1, 2.5, 5, 6 (UHF) / 7 (VHF) Watt

Automatic mode recognition Analog/Digital

Tone burst 1750 Hz

Tone squelch CTCSS, DCS

Tone call: DTMF, 2 tone, 5 tone

GPS receiver

New APRS on FM or DMR

New APRS settings per menu

Recording and re-transmission of received signals (DMR only)

New Roaming (selection of a reachable repeater from a pre-defined list)

VOX function

New Prepared for Bluetooth option (see note)

Weather protected IP54

Kenwood / Wouxun compatible accessories

Desktop charger with 12V supply, can be easily used at your station or in the car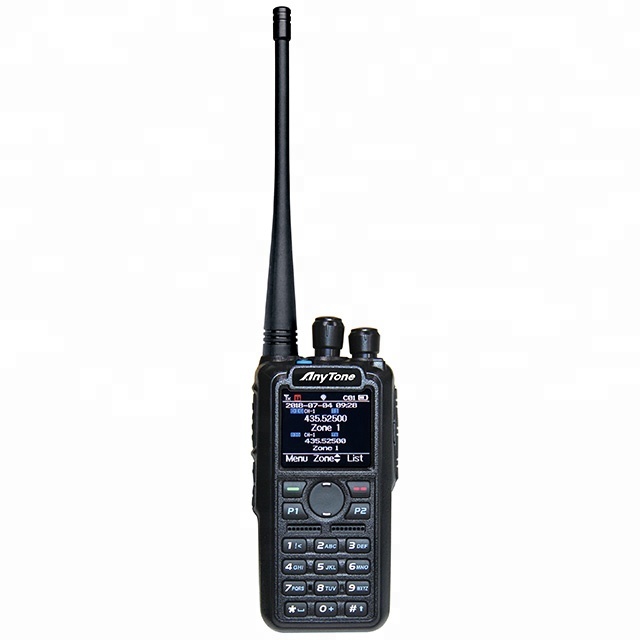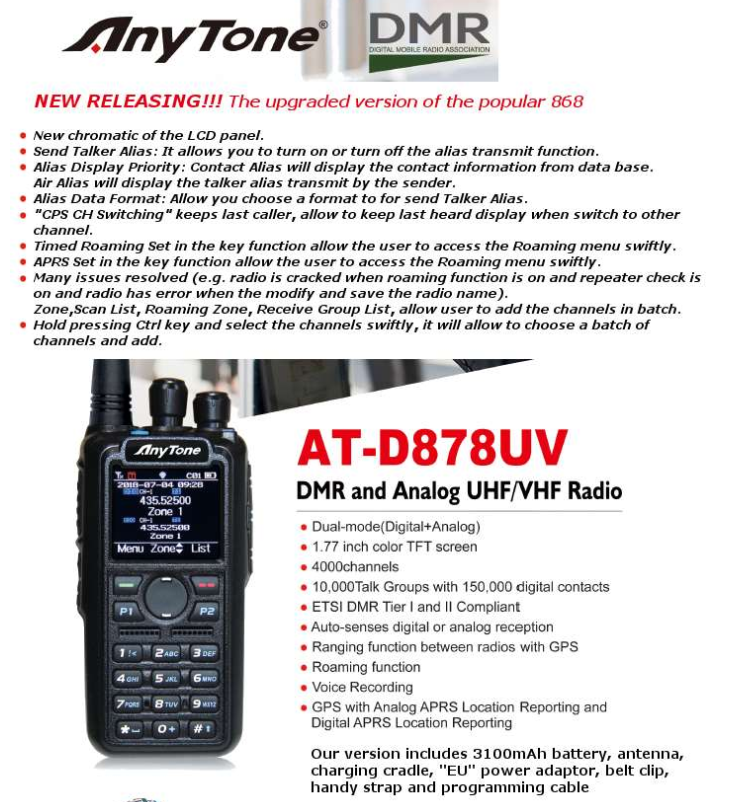 Package Included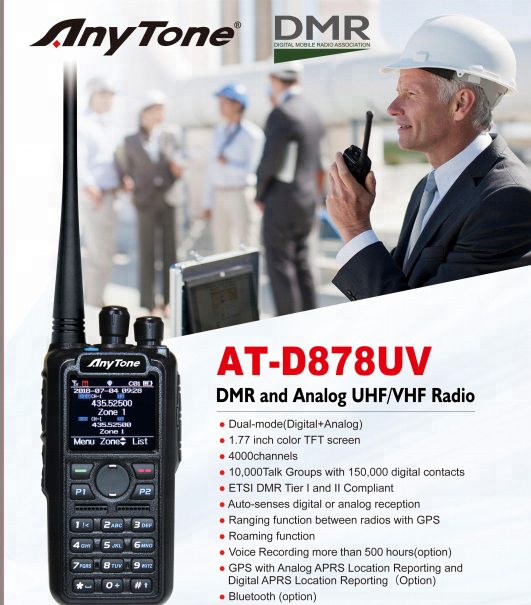 Bank Transfer
BANK TT
Account name (Name of Beneficiary): WANG ZE BIN
Account Number : 6217001930025772758
Bank Name: China Construction Bank, Xiamen Branch
Swift Code:PCBCCNBJSMX
Bank Address: NO.89, Jiyuan Road, Jimei, Xiamen, Fujian Province, China

BANK Payment Policy:
Please confirm correct payment Currency is same our order. ( Not include the handling charge from your bank and our bank account. )

Request information as below :
1) Send money total amount
2) Received Name from Payment
3) 446shop Order number
4) Sender Name
E-mail : sales@446shop.com
Notice:
Dear customers:
To aviod the controversial, please ask for the bank about the handling fees and where to deduct before the remittance.
If you don't make it clear, your Bank will deduct the charges from your remittance.
That means the remittance that you send to us will be reduced.
If payment is not enough, our company will not send out order until we got full payment.
Please pay attention and sorry for any inconvenience caused.

Online Payment
(1) PayPal Account: adams.jobs@hotmail.com
1) Why PayPal?
PayPal enables you to send payments quickly and securely online using a credit card or bank account.
Advantages:
a) Payment is traceable. You can trace the status of your payment using your PayPal account.
b) Payment does not require you to use your credit card online (you can transfer directly from your bank account). TradeTang doesn't see your credit card number (it is safely encrypted through PayPal's server), which limits the risk of unauthorized use.
2) How to make payment by PayPal?
Buyers go the order process on TradeTang and if you prefer to use PayPal, you will be led to PayPal's page. You are free to pay with your credit card, balance, or E-Cheque.
(2) Western Union
Benefit Name
First Name: zebin
Last name (Family name): wang
Address: Room303, NO.13, Yanpin Yili, Jimei, Xiamen City, Fujian Province, China 361024
With more than 150 years of experience, Western Union is a global leader in money transfer services. It helps consumers and businesses send money quickly and reliably. Below is the information you need for Western Union transfer:
Beneficiary

ZeBin Wang

First Name:ZeBin

Last Name:Wang

Country

China

Address

Room303, NO.13, Yanpin Yili, Jimei, Xiamen City, Fujian Province, China 361024

Telephone

+86-138 6012 3881
1.What is MTCN?
MTCN stands for Money Transfer Control Number, a ten digits number provided by Western Union upon your sending money. It serves a tracking number for sender and the recipient will not be able to collect money without MTCN.
2.What is the Exchange Rate if I pay by Western Union?
Money sent by Western Union will be exchanged according to the exchange rate of the day when it is collected. The amount we receive might be slightly different from that you send as exchange rate keeps changing.
3.What to do once I decide to pay with Western Union?
We need MTCN, your name and address to collect the money. After you choose to pay with Western Union, a new page will be opened, on which you need to fill in the blanks with the money-sending information.
Please make sure the information is exactly the same with that on your receipt given by Western Union agency.
(3) MoneyGram
Benefit Name
First Name: zebin

Last name (Family name): wang
Phone number: 0086-13860123881
Address: Room303, NO.13, Yanpin Yili, Jimei, Xiamen City, Fujian Province, China 361024
(4) Sigue Money Transfer
Benefit Name
First Name: zebin

Last name (Family name): wang
Phone number: 0086-13860123881
Address: Room303, NO.13, Yanpin Yili, Jimei, Xiamen City, Fujian Province, China 361024

Telegraphic Transfer
Intermediary Bank: Deutsche Bank Trust Company Americas
SWIFT BIC: BKTRUS33
Beneficiary Bank: Postal Savings Bank of China
SWIFT BIC: PSBCCNBJ
Beneficiary Account No.: 621098 3930 00476 7297
Beneficiary's Name: ZEBIN WANG
Beneficiary's Address:
705, No.78, JinShang District, JinShang Road, Xiamen City, China
Telephone Numbe: +0086-13860123881

Order Delivery
You also can track all the post shipping information on http://www.17track.net/en/
Note: If you wanna the above delivery service, please email us(sales@446shop.com). As our default shipping way is by Post Parcel Delivery. Thank You!

Shipment Tracking
Please track the order with the tracking number which we sent you on here.