Anytone AT-779

VHF UHF 70CM Micro-sized Car Radio

Amateur Mobile Transceiver
Brand new on to the market, this new Micro-sized 70cm mobile is so small you won't believe how tiny it is .
Solid die-cast alloy construction and a full 15W output !
15W/10W/5W UHF Mobile Radio Transceiver. 199 programmable memorized channels

Frequency Range: UHF: 400-490MHz,Various scan functions including CTCSS/DCS scan function

Automatic calling Identification function by CTCSS or DCS signaling

Narrow Band compliant,Different band width per Channel, 25K for wide band, 12.5K for narrow band
SPECIFICATIONS
GENERAL
Frequency Range: 136-174MHz Or 400-490MHz
Number of Channels:199 channels
Channel Spacing:25KHz(Wide Band);12.5KHz(Narrow Band)
Phase-locked Step: 2.5K, 5K, 6.25K, 10K, 12.5K, 20K, 25K, 30K,50K.
Operating Voltage:13.8V DC±15%
Squelch:Carrier/CTCSS/DCS
Frequency Stablility:±2.5ppm
Operating Temperature:-20℃~+60℃
Dimensions:109x104x25mm
Weight:421g
TRANSMITTER
Sensitivity(12dB SINAD) Wide Band: ≤ 0.25μV Narrow band:≤ 0.35μV
Adjacent Channel Selectivity: Wide band: ≥60dB Narrow band:≥60dB
Intermodulation:Wide band: ≥60dB Narrow band:≥60dB
Spunous response:Wide band: ≥60dB Narrow band:≥60dB
Audio Response:+1~-3dB(0.3~3KHz) Narrow band:+1~-3dB(0.3~3KHz)
Hum&Noise :Wide band:≥45dB Narrow band:≥40dB
Audio distortion:≤5%
Audio power output:>2W@8Ω
Transmitting
Power Output: Wide band:15W/10W/5W Narrow band:15W/10W/5W
Modulation:Wide band:16KΦF3E Narrow band:11KΦF3E
Adjacent Channel Power:Wide band:≥70dB Narrow band:≥60dB
Hum&Noise:Wide band:≥40dB Narrow band:≥36dB
Spurious Emission:Wide band:≥60dB Narrow band: ≥60dB
Audio Response:+1~-3dB(0.3~3KHz) Narrow band:+1~-3dB(0.3~2.55KHz)
Audio Distortion:≤5%
ACCESSORIES
Anytone AT-779 Radio,
Install Bracket,
Fuse(5A 250V),
non-slip mat,
User Manual,
Microphone Hanger,
Adjusting Screws,
Screws,
Pads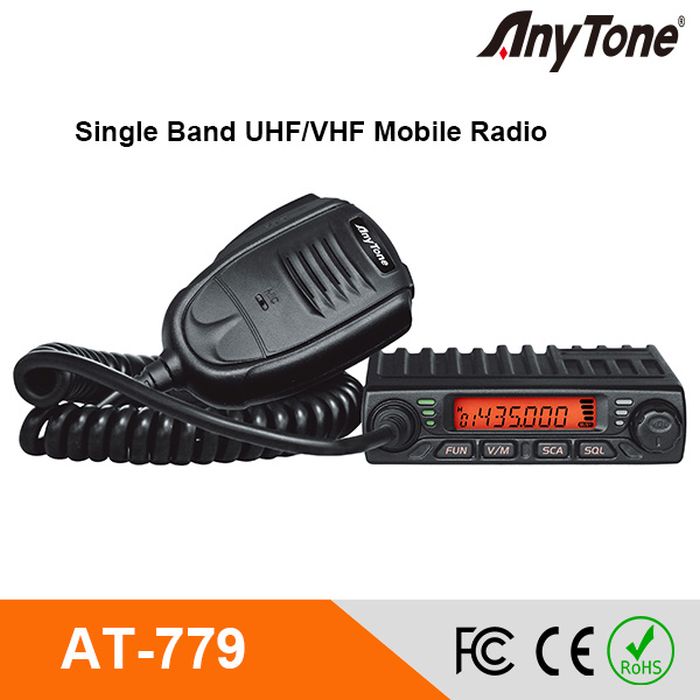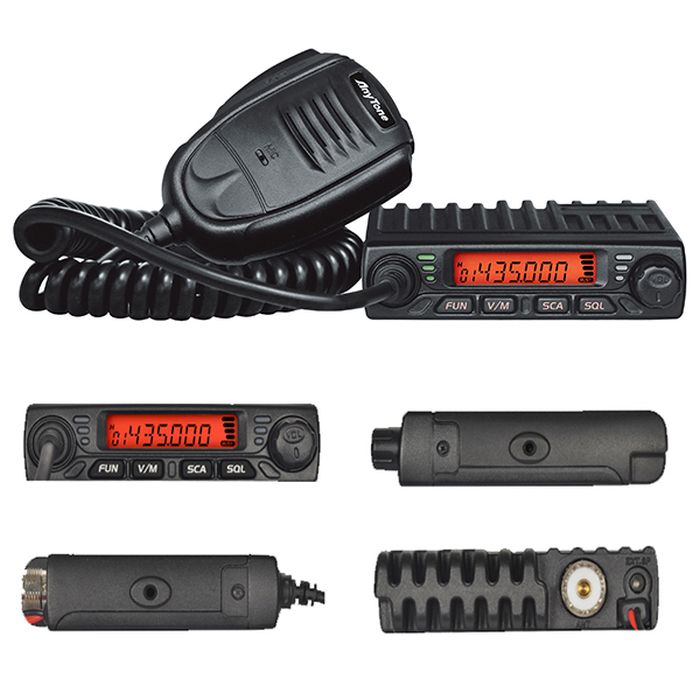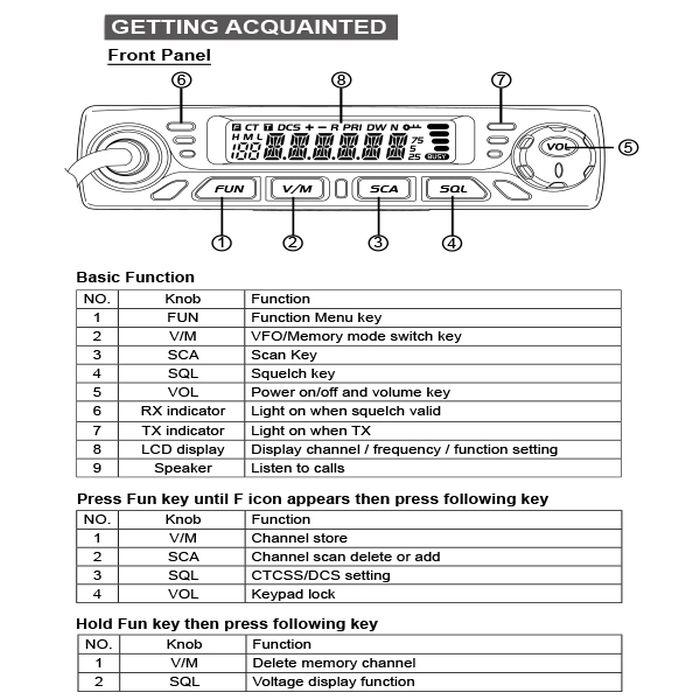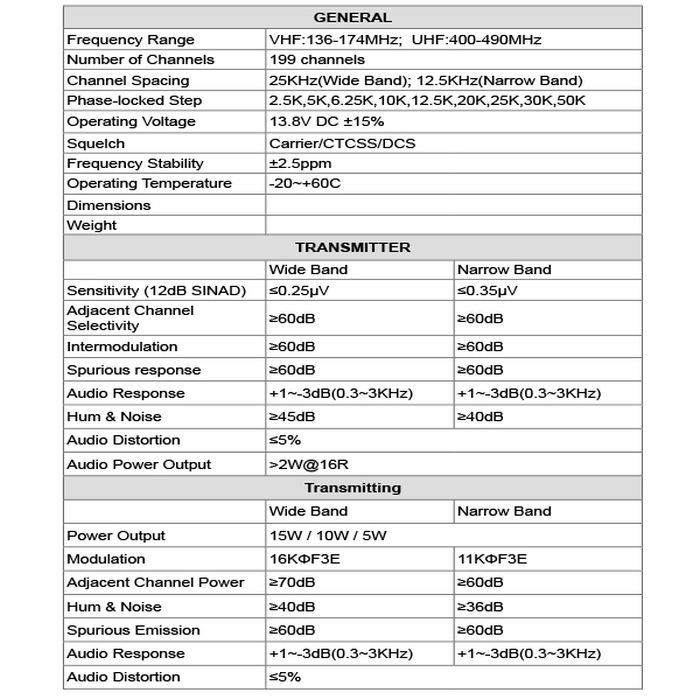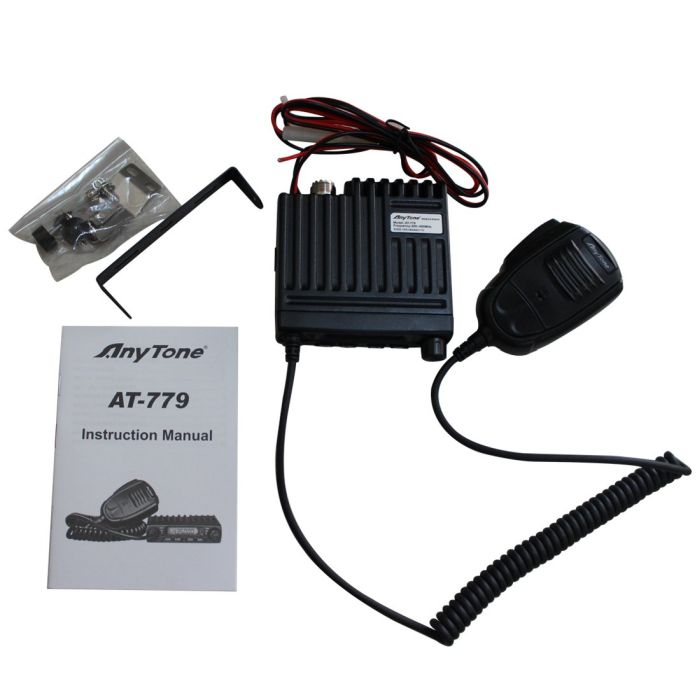 If bulk order, please contact Ms. Amy Huang:
Tel: 86(592)5995025
Fax: 86(592)3720556
WhatsApp / Viber / LINE / Telegram: 0086 18159282307
WeChat / IMO: 0086 13860123881
SKYPE: amy.446shop
Email: amy@446shop.com