Wandfu H3 Bluetooth PTT DSP Speaker For iPhone Android

Walkie Talkie Support Zello Azetti ESchat GroupTalk
Prof Bluetooth WalkieTalkie PTT Spk/Mike 4 iPhone/Android Zello ESchat GroupTalk
this device is certified by Zello, GroupTalk and more....
A certified push-to-talk hardware created specifically for Zello so you can:
Use a dedicated hardware button for push-to-talk.
Listen clearly in noisy environments through a headset or more powerful speaker.
Keep your phone locked and safe in your pocket, or talk and listen while using other apps.
Your iOS or Android devices need either a data plan or a WiFi connection.
·
2017 updated to New H3 Bluetooth Speaker Mic as the photo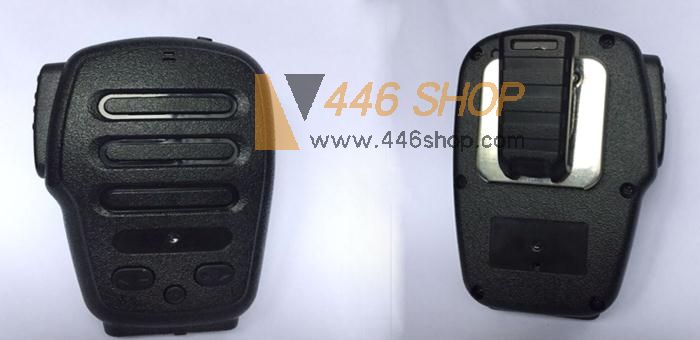 Product Specifications:
Work with iOS6, iOS7, iOS8 (please check our facebook pages for more details. We are the official worldwide distributor and the official testing team.)
Can be used with smartphone apps: zello, azetti, GroupTalk, ESchat, voxer, airptt, walkie talkie, all talk, tikl, genaker ptt and catcom, etc.

1. Bluetooth v3.0 hsp, hfp, a2dp, avrc profiles supported
2. Can connect with mobile phone for calls handling and stereo music
3. Switch to mono and stereo
4. Push-to-talk ptt button support control to Bluetooth adapter/dongle
5. Can connect with various radio Bluetooth adapter/dongle
6. Support 3.5mm headset connector
7. Dsp noise suppression and echo-cancellation, crystal voice quality
8. Compatibility with various mobile phones
9. Connect to two way radio and mobile phone at the same time, priority setting
10. Volume up/down independently tunable
11. Firmware USB upgrade available
12. Four-button operation
13. Long life lithium battery
14. 20 hours talking time
15. 500 hours standby time
Operation
Pairing H3 with bluetooth adaptor for two way radio
1.In the power off state, long press microphone power on/off‌ button for 8s, indicator into red and blue flash alternately.
2.In the power off state, long press bluetooth adapter power on/off button for 8s, indicator into red and blue flash alternately.
3. When both BT mic and BT adapter red and blue indicator turn to blue flash slowly, pairing success.
4. Now you can press H3 PTT button to control radio and talk.
Paring H3 with smart phones
1. In the power off state, long press microphone 'power on/off' button for 8s, indicator will flash red and blue alternately (For Android phone, press Volume- into solid red and blue indicators flash paring mode).
2. Open mobile phone Bluetooth set, then search device, when device name 'Dellking PTT Mic' appears, just choose it and pair, when the Bluetooth microphone red and blue indicators turn into slowly blue indicator flash, then pairing successful.
Note: Please remind, when the PTT mic connect with cellphone, use APP to do follow setting.
Zello app:
1. Android phone: Setting--Option--Advanced Settings--choice PTT operation as 'Dellking PTT microphone'--in talking interface (left bottom) choose 'Bluetooth audio'.
2. IOS phone: just pair the mobile phone and PTT mic, do not need to setting any things, then you can talk with our PTT mic.
Azetti app:
1. Android phone: Setting--Devices--Bluetooth headset H3, Use Bluetooth audio 'on' and Use Bluetooth button 'on'--then you can talk by our PTT mic.
PRODUCT SUMMARY
l Black housing
l Four button operation
l 20h talking time
l 500h standby time
l Waterproof IP54
Tech Specs:
Microphone Type

DSP Noise Suppression MIC

Bluetooth Version

V3.0 Class 2




·

Chip

CSR BlueCore5MM

· Bluetooth profile HSP, HFP, A2DP, AVRCP

· RF Power 10dB

· RF Frequency 2.4~2.4835GHz

· Operate distance 10 Meters

· Charging time 3.5 h

· Music play Up to 20 h

· Talking time Up to 20 h

· Standby time 500 h

· Battery Power DC5.0V/500mA

· Battery type 1600mAh Lithium-ion polymer rechargeable battery

· Working voltage 3.3-- 4.2V

· Weight 130g

· Color black

· Compatible with Various brand mobile phones, GPS navigators



·
*** Smartphones and iPad are not included
Colour:Black
Product Size:89 x 63 x 32mm
Each unit Package Contain:
1 x Bluetooth Speaker Mic
1 x AC adaptor (for your country)
1 x Cable
1 x Manual
Option accessories:
Bluetooth adaptor for all 2 pin Kenwood plug radios
Bluetooth adaptor for Motorola GP328, GP340, ect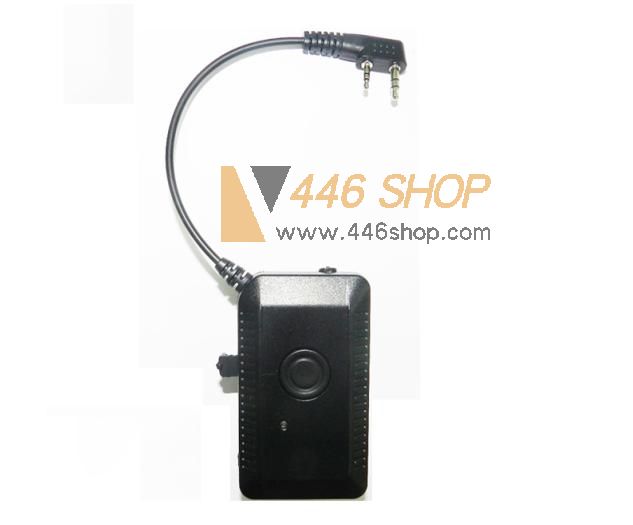 If bulk order, please contact Mr. Omar Brian:
Tel: 86(592)5995025
Fax: 86(592)3720556
WhatsApp: 86-13860123881
Email: omar@446shop.com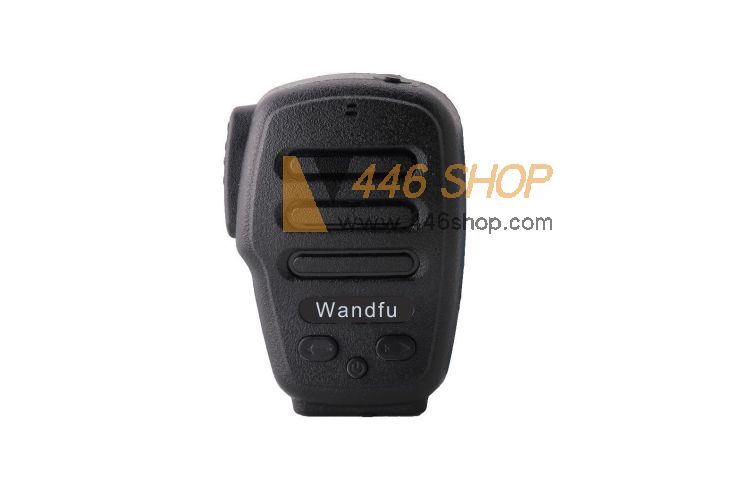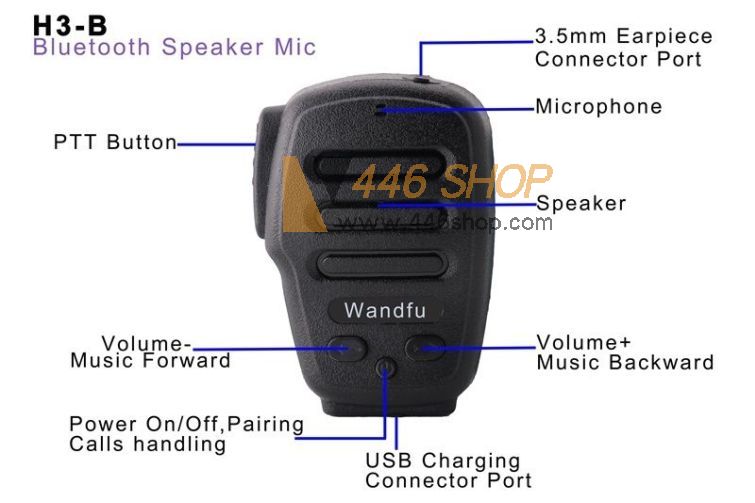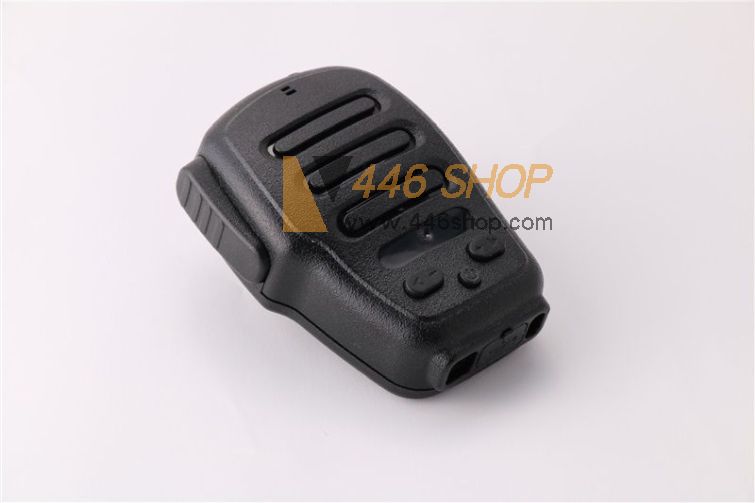 The below Old Version has out of production!