The TC-500 convention hand-hold intercom:
(1) The volume is exquisite, the weight is light
(2) Frequency band: 400-420MHz 450-470MHz 150-174MHz, 350-370MHz, 370-390MHz
(3) Channel quantity: 16
(4) Emissive powers: 4W
(5) Maximum telephone conversation distance: 6 kilometers
(6) Standby times are long, 1100mAh large capacity nickel hydrogen battery
(7) Automatic province electric work energy: Has not received signal or the no-operation 10 seconds later, the intercom will enter the province electricity pattern to reduce the power consumption, thus lengthens intercom's period of revolution.
(8) Electric quantity insufficient warning: The battery capacity insufficient warning reminds the battery to need to charge. If the battery voltage is lower than the predetermined value in the launch, status indicator lantern festival twinkle red candle.
(9) Monitor function Meets endures busily sends the function Launch time limit function Wired duplication function Nine level of static chirp level choices PC programming function The end tone eliminates the function TC-500 widely applies in domains and so on Construction site, transportation, agricultural tree farm, estate management and warehousing Structural design novel unique;
(10) The weight is light, is advantageous carries; Perform reliably; Provides the comfortable working conditions and the good work effect for you.
Other Specifications
1.CTSS/DCS
2.Voice prompt
3.Auto battery saving function
4.PC Programming/Wireless Cloning Function
5.Alarm Function between the Units
Technical Specifications:
General

Frequency range

400--430MHz \ 440--470MHz

Frequency Circuit

PLL Circuit

Operating Mode

F3E

Operation mode

Simplex of co-frequency or alien frequency

Operating temperature range

-30 to +60

Rated Voltage

DC 7.2V±15%

Antenna impedance

50A

Operation Distance

3-15km

Size

110×54×36mm(no including antenna)

Weight

220g(including battery)

Transmitter

RF power output

5W

Frequency Stability

±2.5ppm

Maximum Frequency offset

≤5KHz

Radiation

≤-60dB

Modulation Distortion

5%(300Hz-3KHz)

Transmitting current

≤1100mA

Receiver

Circuitry

Double Super Heterodyne

Intermediate Freq.

1st IF

38.850MHz

2nd IF

450KHz

Reference sensitivity

0.15uV(12dB SINDA)

Squelch sensitivity

0.12uV

Squelch

programable

Audio power

≥500mW

Receiving current

100mA

Squelch waiting current

20mA
If bulk order, please contact Ms. Amy Huang:
Tel: 86(592)5995025
Fax: 86(592)3720556
WhatsApp: 86-13860123881
SKYPE: amy.446shop
Email: amy@446shop.com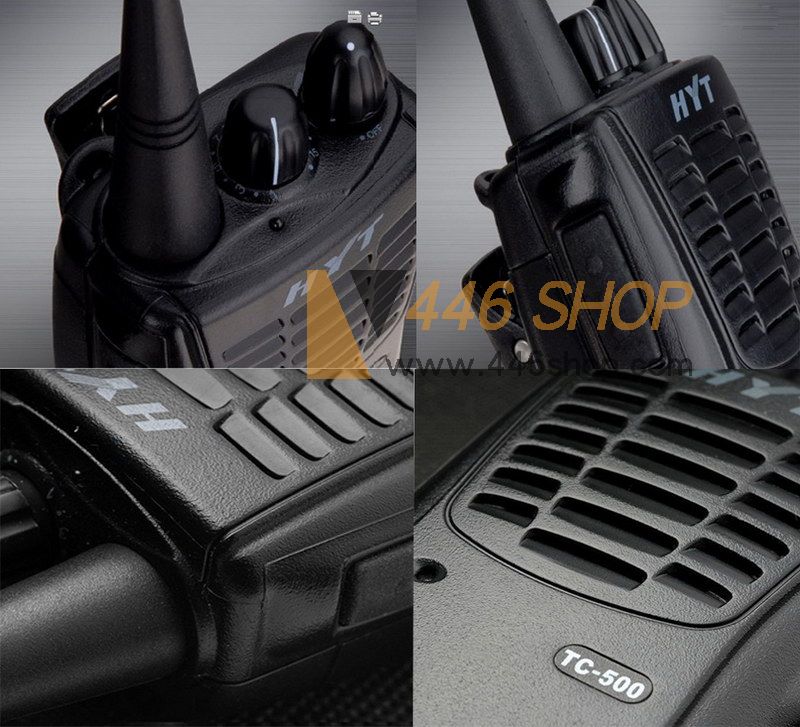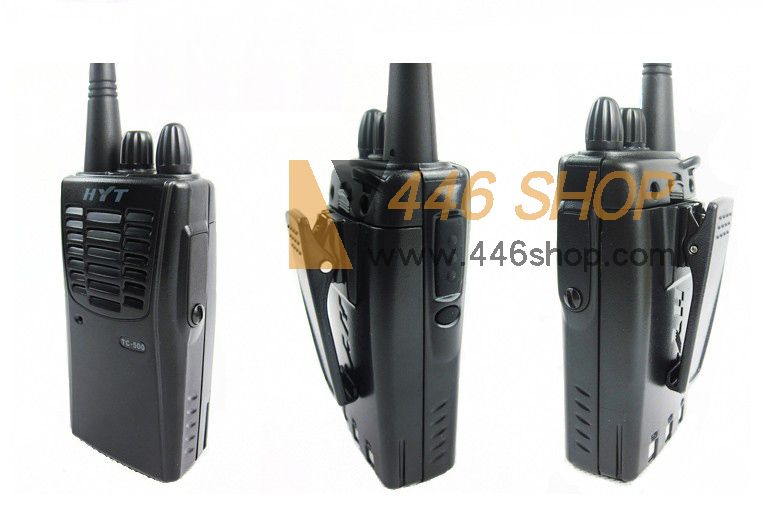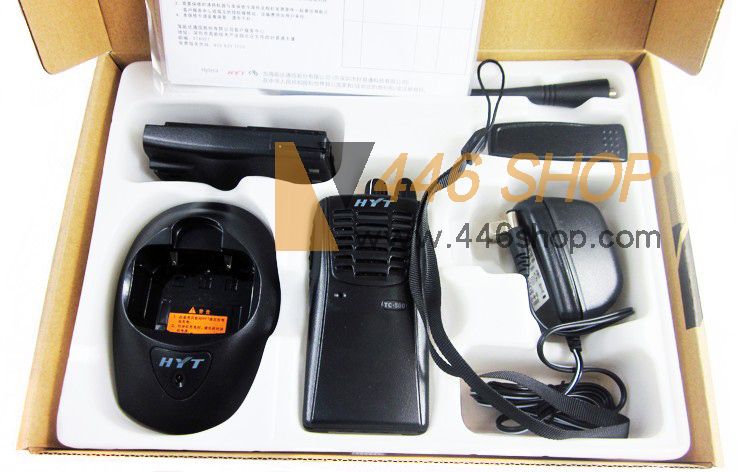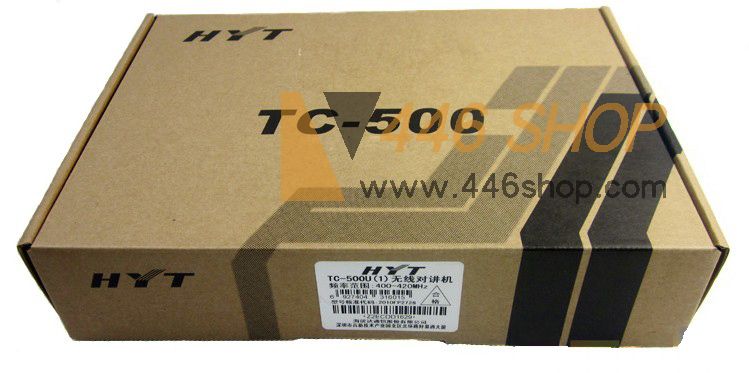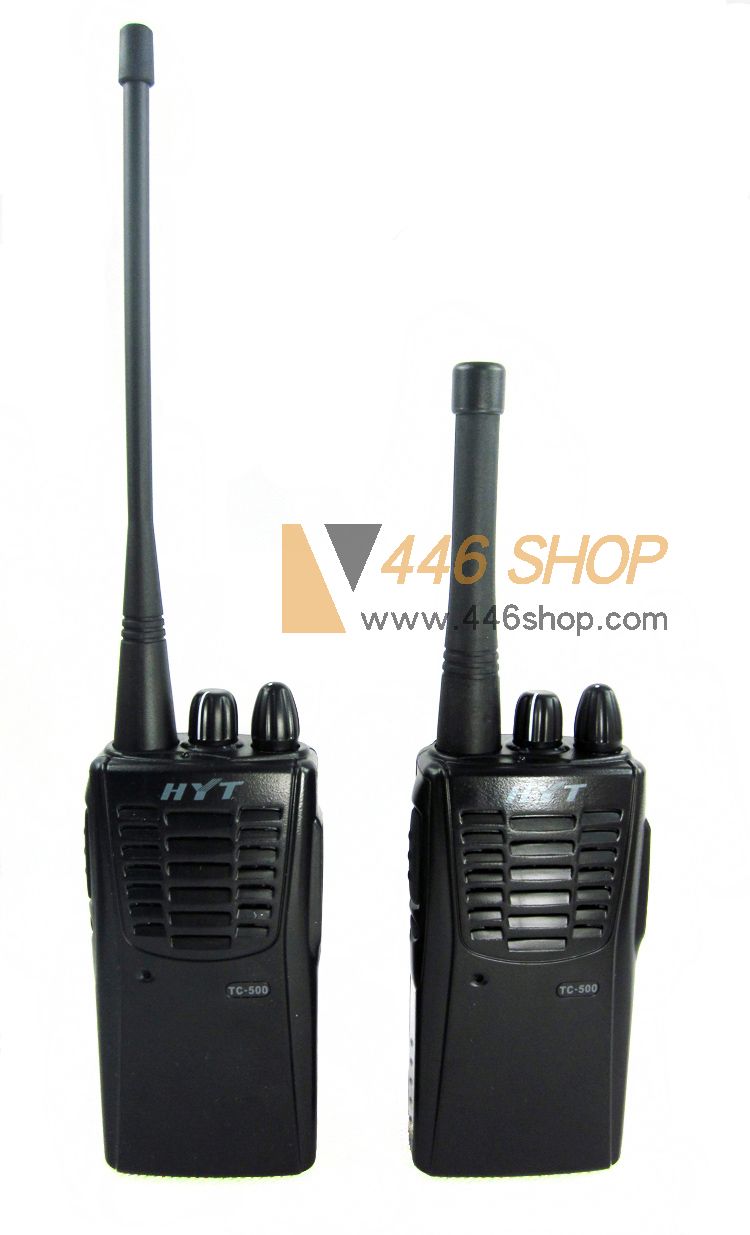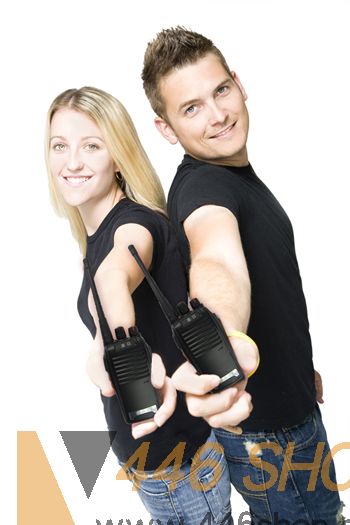 If bulk order or any questions, please contact Ms. Amy Huang:
Tel: 86(592)5995025
Fax: 86(592)3720556
WhatsApp / IMO / Viber /LINE: 0086 18159282307
WeChat: 0086 13860123881
SKYPE: amy.446shop
Email: amy@446shop.com
1 x HYT TC-500 (UHF 400-470Mhz)

1 x 7.2V 1100mah Li-ion Battery Pack

1 x Antenna 400-470Mhz

1 x Belt Clip

1 x ENG Manual

1 x Desktop Charger ( 100V ~ 240V )+(2pin USA or 3pin UK or 2pin EURO or 2pin Australia)

1 x PTT Earpiece for free