Home >> Brand of Radio >> BAOFENG >> BAOFENG >> Baofeng UV-82 Radio 3800mAh Battery Car Charger Speaker Microphone Programming Cable Security Headset USB Charger High Gain Antenna
Baofeng UV-82 Radio 3800mAh Battery Car Charger Speaker Microphone Programming Cable Security Headset USB Charger High Gain Antenna
Baofeng UV-82 plus 8watts Tri-power 8W/4W/1W Powerful 3800mAh battery Portable Radio dual band 10km handheld UV82 Wlkie Talkie
1.The newest 3800mAh battery is specially fit for for Baofeng UV-82. There is a DC connector as same as the 3800mAh battery for Baofeng UV-5R. You can choose car charger or USB charger by it. That is very convenient!
2 It is true 8W high power version, High / Med / Low Power Settings (8W/4W/1W);
Description:
All of our items are Brand New

Model

BF-UV82 8W 3800mAh Walkie Talkie

Dual band /dual display / dual standby

A/B band independent operation(UV UU VV)

128 groups channels storage

Shortcut menu operation mode

Memory channels scan

Time/ Carrier / Search Operation

Emergency Alarm

Indicator and flashlight Flashing Together

Time-out Timer (TOT)

15-600/Stepping 15

Squelch Level(SQL)

0-9 Grade

PTT & ANIID

ON OFF/0-9;A-F

Voice companding

50 CTCSS/104 DCS

High/Low TX power selectable

Busy channel lock-out(BCLO)

DTMF ST function

DT+ANI/ANI-ST/DT-ST/OFF

Dual PTT

Yes

Wide/Narrow Band(25kHz/12.5kHz)

Yes

VOX function

Yes

OFF/1-10

1750HZ Tone

Yes

Busy lockout function

Yes

Scanning function

Yes

Monitor function

Yes

Time-out Timer (TOT) function

Yes

LCD display

Yes

Dual display

Yes

Dual Standby

Yes

Battery voltage display function

Yes

Channel name display and editing functions

Yes

Signal strength indicator

Yes

Keypad lock function

Yes

Built-in Led torch

Yes

FM radio

Yes

65-108MHZ(Reception)

Emergency alarm function

Yes

Low battery alarm

Yes

Power saving function

Yes

High/Low TX power selectable

Yes

8W/4W/1W

ROGER SET

Yes

FULL/MGS

Chinese and English voice prompt

Yes

Wire clone function

Yes

PC software programmable

Yes

General Specifications

Frequency stability

plusmn2.5ppm

Frequency Step

2.5/5/6.25/10/12.5/20/25KHz

Antenna Impedance

50ohm

Working temperature

-20~+50degC

Rated Voltage

7.4V DCplusmn10%

Output power

<= 8W

Battery type

Li-ion battery

Battery capacity

3800mAh

Headphone jack type

2 Pin Kenwood Plug

Antenna Type

SMA-F(Female)

Mode Of Operation

Simplex Or Semi-duplex

Weight

588g

Dimension(LXWXH)

286mmX52mmX30mm(Include Antenna)

Transmitter

Type Of Modulation

16koslashF3E / 11koslashF3E

Max frequency deviation

< 5kHz(Wide)/< 2.5kHz(Narrow)

Emissioncurrent

<= 1.5A(5W)

CTCSS / DCS

0.7plusmn0.1kHz(Wide)

0.4plusmn0.1kHz(Narrow)

Reception

Sensitivity

-122dBm(12dB SINAD)

Audio Power

1W

Intermediation Distortion

<10%

Inter modulation

>=65Db/>=60dB

Spurious response

65dB

Adjacent channel selectivity( wide/narrow)

<-65dB(Wide) <-60dB(Narrow)

Receiving Current

<=380mA
Package Contain:
1 X Portable radio
1 X Antenna
1 X 3800mAh Li-ion battery
1 X Li-ion charger
1 X Belt clip
1 X The Sling
1 X User's manual
+ Security Earpiece + Car Charger + Speaker Microphone + Programming Cable + High Gain Antenna + USB Charger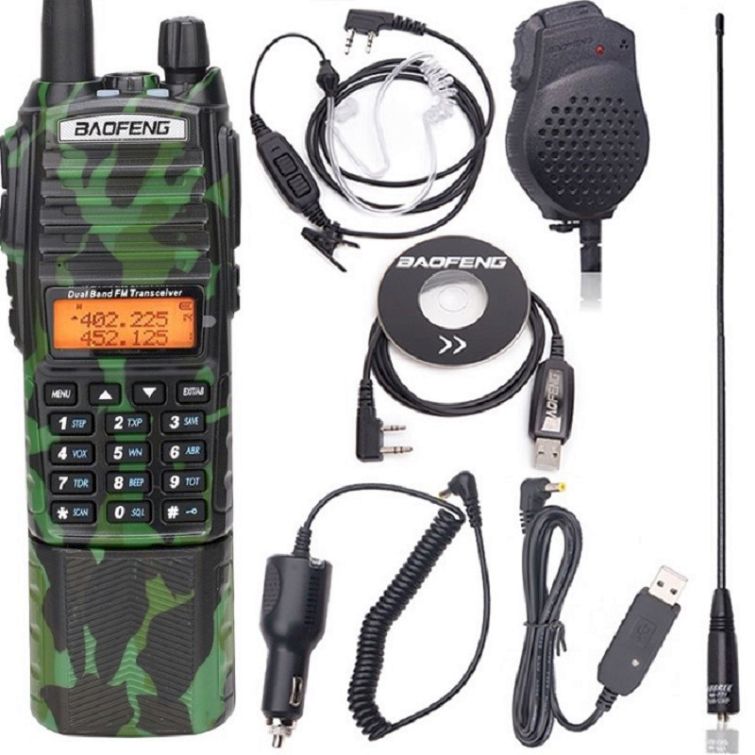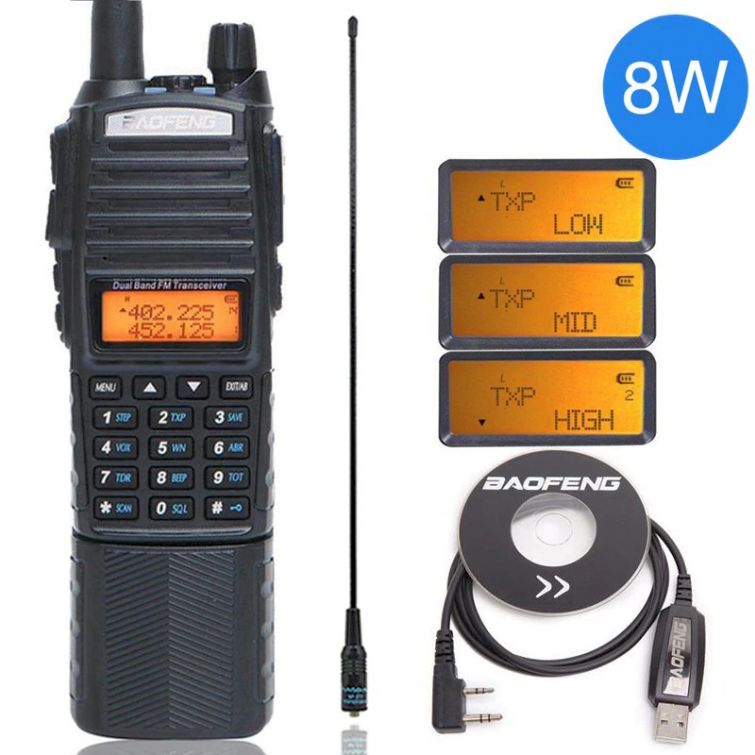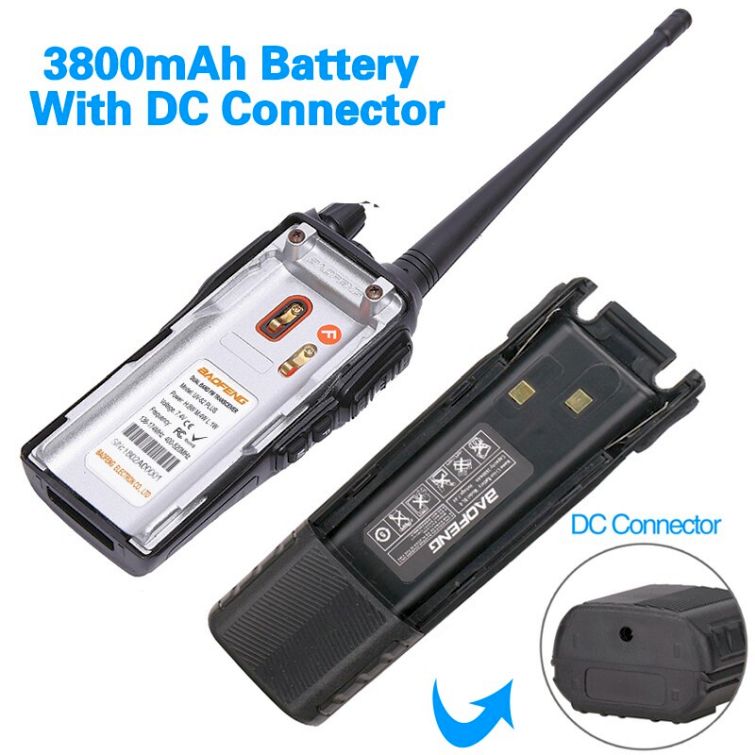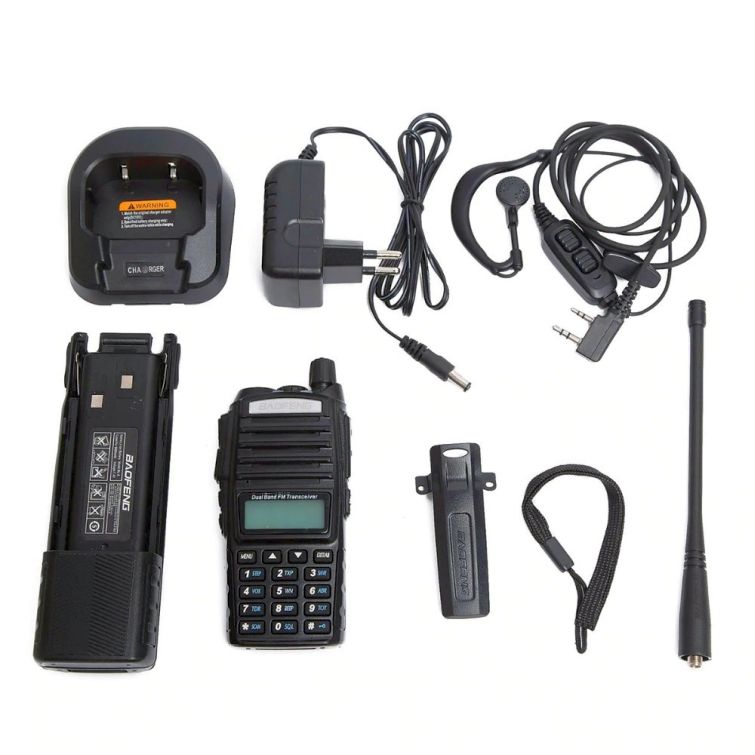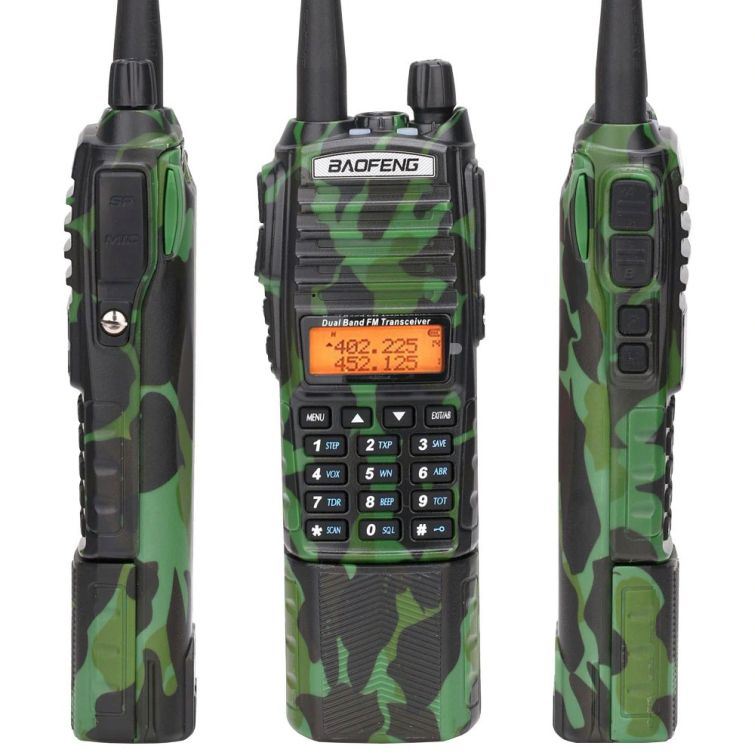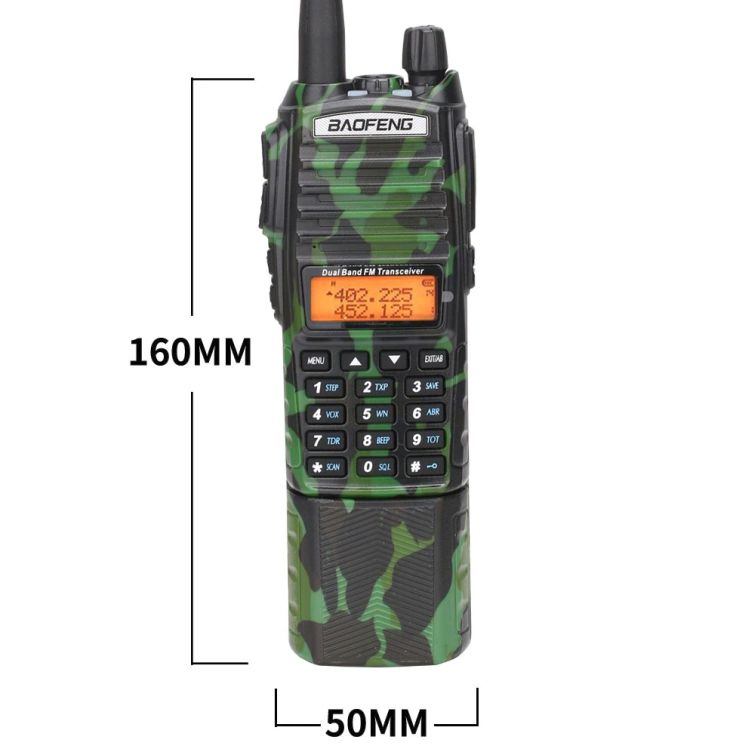 Bank Transfer
BANK TT
Account name (Name of Beneficiary): WANG ZE BIN
Account Number : 6217001930025772758
Bank Name: China Construction Bank, Xiamen Branch
Swift Code:PCBCCNBJSMX
Bank Address: NO.89, Jiyuan Road, Jimei, Xiamen, Fujian Province, China

BANK Payment Policy:
Please confirm correct payment Currency is same our order. ( Not include the handling charge from your bank and our bank account. )

Request information as below :
1) Send money total amount
2) Received Name from Payment
3) 446shop Order number
4) Sender Name
E-mail : sales@446shop.com
Notice:
Dear customers:
To aviod the controversial, please ask for the bank about the handling fees and where to deduct before the remittance.
If you don't make it clear, your Bank will deduct the charges from your remittance.
That means the remittance that you send to us will be reduced.
If payment is not enough, our company will not send out order until we got full payment.
Please pay attention and sorry for any inconvenience caused.

Online Payment
(1) PayPal Account: adams.jobs@hotmail.com
1) Why PayPal?
PayPal enables you to send payments quickly and securely online using a credit card or bank account.
Advantages:
a) Payment is traceable. You can trace the status of your payment using your PayPal account.
b) Payment does not require you to use your credit card online (you can transfer directly from your bank account). TradeTang doesn't see your credit card number (it is safely encrypted through PayPal's server), which limits the risk of unauthorized use.
2) How to make payment by PayPal?
Buyers go the order process on TradeTang and if you prefer to use PayPal, you will be led to PayPal's page. You are free to pay with your credit card, balance, or E-Cheque.
(2) Western Union
Benefit Name
First Name: zebin
Last name (Family name): wang
Address: Room303, NO.13, Yanpin Yili, Jimei, Xiamen City, Fujian Province, China 361024
With more than 150 years of experience, Western Union is a global leader in money transfer services. It helps consumers and businesses send money quickly and reliably. Below is the information you need for Western Union transfer:
Beneficiary

ZeBin Wang

First Name:ZeBin

Last Name:Wang

Country

China

Address

Room303, NO.13, Yanpin Yili, Jimei, Xiamen City, Fujian Province, China 361024

Telephone

+86-138 6012 3881
1.What is MTCN?
MTCN stands for Money Transfer Control Number, a ten digits number provided by Western Union upon your sending money. It serves a tracking number for sender and the recipient will not be able to collect money without MTCN.
2.What is the Exchange Rate if I pay by Western Union?
Money sent by Western Union will be exchanged according to the exchange rate of the day when it is collected. The amount we receive might be slightly different from that you send as exchange rate keeps changing.
3.What to do once I decide to pay with Western Union?
We need MTCN, your name and address to collect the money. After you choose to pay with Western Union, a new page will be opened, on which you need to fill in the blanks with the money-sending information.
Please make sure the information is exactly the same with that on your receipt given by Western Union agency.
(3) MoneyGram
Benefit Name
First Name: zebin

Last name (Family name): wang
Phone number: 0086-13860123881
Address: Room303, NO.13, Yanpin Yili, Jimei, Xiamen City, Fujian Province, China 361024
(4) Sigue Money Transfer
Benefit Name
First Name: zebin

Last name (Family name): wang
Phone number: 0086-13860123881
Address: Room303, NO.13, Yanpin Yili, Jimei, Xiamen City, Fujian Province, China 361024

Telegraphic Transfer
Intermediary Bank: Deutsche Bank Trust Company Americas
SWIFT BIC: BKTRUS33
Beneficiary Bank: Postal Savings Bank of China
SWIFT BIC: PSBCCNBJ
Beneficiary Account No.: 621098 3930 00476 7297
Beneficiary's Name: ZEBIN WANG
Beneficiary's Address:
705, No.78, JinShang District, JinShang Road, Xiamen City, China
Telephone Numbe: +0086-13860123881

Order Delivery
You also can track all the post shipping information on http://www.17track.net/en/
Note: If you wanna the above delivery service, please email us(sales@446shop.com). As our default shipping way is by Post Parcel Delivery. Thank You!

Shipment Tracking
Please track the order with the tracking number which we sent you on here.