Motorola GP338 PLUS High Performance Walkie Talkie


1. 128 Channels




2. Name & Tone Tagging




3. Voice Selective Call




4. Priority Scan
GP338 PLUS High Performance Walkie Talkie
Common features of GP Plus series:
Advanced Audio Technology

LED Battery Gauge

Switchable RF Power level

Repeater/Talkaround Enable/Disable

Tight/Normal Squelch

Lithium lon Battery Option

Programmable Channel Spacing
Special Features of GP338 Plus:
Equipped with a alpha-numeric keypad and display the GP338 Plus Radio offers enhanced functionality in addition to the features of the GP328 Plus Radio series.
128 Channels
Provides up to a maximum of 128 channels providing greater flexibility in organising different work groups.
14-Character Alpha- Numeric Dot Matrix display
The 14 character alpha-numeric display allows immediate
communication of vital information such as PTT ID, radio
strength indicator and signal strength indicator. In addition,
the user-friendly icons make the information easy to read and
understand. The keypad and display illuminations also provide
the visibility to operate your radio in the dark.
RECEIVED SIGNAL STRENGTH INDICATOR
An easy to read on screen display indicator notifies users
of signal strength in their vicinity.
Name & Tone Tagging
The capability of assigning 8 different ringing tones and
visual caller IDs to 8 specific users/talkgroups enhances
audio and visual caller identification for these 8 groups.
Battery Strength Indicator
Easy to read on-screen LCD display indicator alerts users
on low battery strength.
Menu Keys
The easy to navigate menu keys allow users to select relevant functionalities.
PTT-ID
Every time the PTT button is pressed, it enables the transmission of the caller ID.
Status/Message
This feature enables you to replace frequently used voice calls with status message, saving your valuable communication time.
Call Alert
If your call to a two way radio has no response, the radio will emit an alert tone until the other party takes action.
Voice Selective Call
The radio users receive a unique individual or group voice message with an alert to indicate that it is a selective call.
Priority Scanning
Allows activity on different channels to be monitored. Any incoming call
General Specification

VHF/UHF

Frequency(MHz)

136-174/330-400/403-470/450-527

Channel Capacity

128

Power Supply

Provided through rechargeable battery -7.5 V

Dimensions (Radio footprint height excluding knobs)

With Li-ion (Slim) Battery:

With Li-ion (Hicap) Battery:

Height×Width×Depth

101.5mm×55.5m×30.5mm

101.5mm×55.5mm×35.5mm

Weight

With Li-ion (Slim) Battery:

With Li-ion (Hicap) Battery:

250g

270g

Average Battery Life @ 5/5/90Cycle

With Li-ion (Slim) Battery:

With Li-ion (Hicap) Battery:

10 hours at Low Power, 8 hours at High Power

14 hours at Low Power, 11 hours at High Power

Sealing

Withstands rain testing per MIL STD 710C /D /E and IP54

Shock and Vibration

Protection provided via impact resistant housing exceeding MIL STD 710C.D.E and TIA/EIA 603
| | |
| --- | --- |
| Transmitter | VHF/UHF |
| Frequency (MHz) | 136-174/330-400/403-470/450-527 |
| Frequency Separation | Full bandsplit |
| Channel Spacing | 12.5/20/25kHz |
| Frequency Stability (-30°C~+60°C, +25°C Ref.) | 2.5ppm |
| Power Output | 5W(VHF),4W(UHF) |
| Modulation Limiting | ±2.5 at 12.5kHz, ±4.0 at 20kHz, ±25kHz |
| FM Hum & Noise | -40dB |
| Conducted/ Radiated Emission | -36dBm<1GHz/ -30dBm>1GHz |
| Modulation FCC Type | 12.5kHz 11KOF3E, 25kHz 16KOF3E |
| Audio Response (from 6 dB/octave pre-emphasis 300-3000Hz) | +1 to -3dB |
| Audio Distortion | 3% <5% 1kHz 60% dev |
Receiver

VHF

UHF

Frequency (MHz)

136-174/330-400/403-470/450-527

Frequency Separation

Full bandsplit

Sensitivity (12dB SINAD) EIA

.35mV

.25mV

Intermodulation(EIA)

-65dB

70dB

Adjacent Channel Selectivity

60dB @ 12.5kHz, 70dB @ 25kHz

Spurious Rejection

70dB

Rated Audio

500mW

Audio Distortion

<5%

3%

Hum & Noise

-40dB

Audio Response (300-3000Hz)

+1 to -3dB

Conducted Spurious Emission

-57dBm < 1GHz, -47dBm> 1GHz, FCC Part 15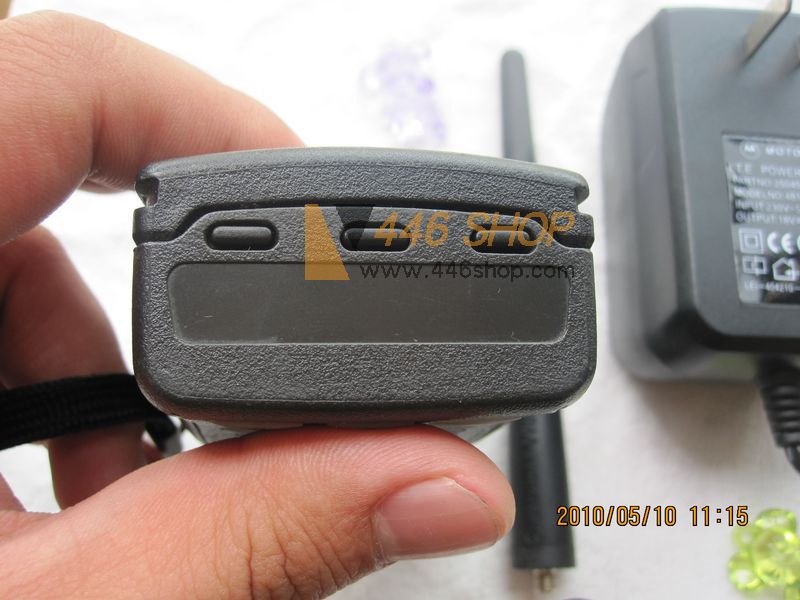 If bulk order, please contact Ms. Amy Huang:
Tel: 86(592)5995025
Fax: 86(592)3720556
WhatsApp / Viber / LINE / Telegram: 0086 18159282307
WeChat / IMO: 0086 13860123881
SKYPE: amy.446shop
Email: amy@446shop.com