Motorola GP340 Two Way Radio Handheld Walkie Talkie
If order, please contact Ms. Amy Huang:
Tel: 86(592)5995025
Fax: 86(592)3720556
WhatsApp: 0086-18159282307
Email: amy@446shop.com
Motorola two way radio
With its 16 channels, the Motorola GP340 is the affordable solution for professionals who require a rugged, reliable 2 way radio to help them stay in contact.
The Motorola GP340 is a PBR radio and does require a licence for use.
PACKAGE CONTENTS
16 VHF or UHF frequency channels

5 Tone and CTCSS

NiMh high capacity battery (HNN9008)

Removable antenna

Belt clip

User guide
Main Features
All the features and functions of the GP320 plus

16 channels - for easier calling of larger teams or call groups.

Emergency signalling Send a help signal to a predefined person or group within the team instantly without dialling.

Option Board Expandability Different optional add-in boards give added features where required; storage and retrieval of messages, covert message security or automatic man-down alarm messages.
Additional Features
VOX

16 channel capacity

Call Forward

Talkaround

Vote Scan

Emergency Signallingli>

Lone Worker

High/Low output power

Scan revert channel
---
Technical Specification
| | |
| --- | --- |
| Range: | 8 km |
| Frequency Range: | UHF and VHF available |
| Power: | 5W VHF, 4W UHF |
| Number of Channels: | 16 |
| Height: | 137 mm |
| Width: | 57 mm |
| Depth: | 37.5 mm |
| Weight: | 420 g with high capacity battery |
| Build Specification: | IP54 - for environmental resistance |
GP340

two way radio, transceiver, interphone

Frequency: VHF: 136 - 174 MHz,

UHF: 403 - 470 MHz, 450 - 527 MHz
Channel: 16
Maximum talk Range: 5km
Power: 5/1(VHF) -136 - 174 MHz, 4/1(UHF)W- 403 - 470 MHz / 450 - 527 MHz
Battery: Lithium-ion:JMNN4023,JMNN4024 , Ni-MH battery
Time for use: 8-10 hours
Speaker on

Weight: 420g(Ni-MH battery included)

Size: 137 mm *57.5 mm *37.5 mm
Motorola GP340 basic parameters
| | | |
| --- | --- | --- |
| | Handheld | |
| Storage Channel | 16 | |
| Frequency Range | 136MHz-174MHz/403MHz-470MHz/450MHz-527MHz | |
| Power supply | 136-174MHz: 5W,403-470 MHz/450-527 MHz:4W | |
Motorola GP340 Functional parameters
| | | |
| --- | --- | --- |
| Talk confirmation tone end | Yes | |
| Back Light | NO | |
| Handheld | Yes | |
| Optional accessories | NI-MH Battery or nickel-cadmium battery, omnidirectional antenna, belt strap, housing chest pocket, aiguillette, microphone, headphone, monitoring accessories, charger and trimmer, car charger, actuating device | |
Motorola GP340 Power Parameters
| | | |
| --- | --- | --- |
| Electric Power Supply | NI-MH Battery:HNN9010,PMNN4008,PMNN4045;nickel-cadmium battery:HNN9011 | |
| Duration | 8/10 hours | |
Motorola GP340 Appearance Parameters
| | |
| --- | --- |
| Color | Black |
| Size | 137×57.5×37.5 |
| Weight | 420g |
Motorola's unique MDC signalling allows the transfer of data communications at the high-speed rate of 1200 bits per second.

The Forward error correction technology enables radio to receive message, like call alert and send out the PTT-ID even though the voice signal is too weak to be heard.

Expandable & easy to install in the field, by simply adding on option boards like voice storage board whenever your needs arise. The option board also allows up to 2 minutes of recording.

The plug-in mandown option board feature will trigger an emergency procedure in situations where the radio is horizontal or still for longer than a pre-programmed time. It is critical for radio users who work alone or in isolated environments.

The GP340 is certified by the US Factory Mutual standard intrinsically safe to operate in hazardous atmosphere.

The built-in voice-activated feature (VOX) enables users to transmit their message in a hands-free environment, without pressing the push-to-talk button.
Easy to Use
Switchable RF Power Levels: with one button, users can switch between high and low power with reference to their specific application to conserve battery life.

Tri-colour LED Battery Gauge indicates battery status with early warning on low battery strength.

Tone Tagging allows 8 different ringing tones to be assigned to 8 specific users/talkgroups making audio caller identification to these 8 groups possible.

Lightweight Lithium Ion battery option makes the radio one of the lightest in its range.
Operator friendly controls and features include:
Signalling




The radio software encompasses Private Line™ and 5-tone selective signalling

Channel Scan




Allows activity on different communications channels to be monitored and answered

X-Pand™ Voice Compression and Low Level Expansion




Crisp, clear and strong audio quality in virtually any noisy environment. Low level expansion allows further improvements in audio quality by reducing noise usually heard during pauses in conversation

Voice Operated Transmit (VOX)




Hands free operation when used with VOX headset accessory

Adjustable Power Levels

The radio output power has two settings




- low power extends battery life




- high power allows the radio to transmit over a greater distance

Emergency Signalling




Sends a help signal to a pre-defined person or group of people. The help signal can contain a pre-recorded voice message enabling your whereabouts or status to be determined immediately by the receiving person

Programmable Channel Spacing (12.

5/20/25KHz)




Flexible and easy migration of channel spacing requirements in any situation

Lone Worker




Added security and safety for individuals who work remotely from their team. The radio enters emergency mode if the user does not respond to the warning signal

Option Board Expandability
If bulk order, please contact Ms. Amy Huang:
Tel: 86(592)2653580
Fax: 86(592)3720556
What's App: 0086 181 592 82307

SKYPE: amy.446shop
Email: amy@446shop.com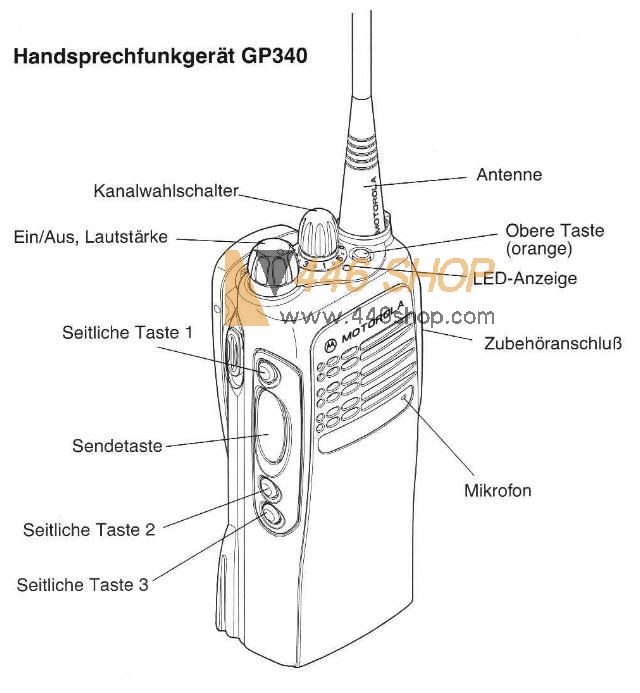 If bulk order, please contact Ms. Amy Huang:
Tel: 86(592)5995025
Fax: 86(592)3720556
WhatsApp / IMO / Viber /LINE: 0086 18159282307
WeChat: 0086 13860123881
SKYPE: amy.446shop
Email: amy@446shop.com

Bank Transfer
BANK TT
Account name (Name of Beneficiary): WANG ZE BIN
Account Number : 6217001930025772758
Bank Name: China Construction Bank, Xiamen Branch
Swift Code:PCBCCNBJSMX
Bank Address: NO.89, Jiyuan Road, Jimei, Xiamen, Fujian Province, China

BANK Payment Policy:
Please confirm correct payment Currency is same our order. ( Not include the handling charge from your bank and our bank account. )

Request information as below :
1) Send money total amount
2) Received Name from Payment
3) 446shop Order number
4) Sender Name
E-mail : sales@446shop.com
Notice:
Dear customers:
To aviod the controversial, please ask for the bank about the handling fees and where to deduct before the remittance.
If you don't make it clear, your Bank will deduct the charges from your remittance.
That means the remittance that you send to us will be reduced.
If payment is not enough, our company will not send out order until we got full payment.
Please pay attention and sorry for any inconvenience caused.

Online Payment
(1) PayPal Account: adams.jobs@hotmail.com
1) Why PayPal?
PayPal enables you to send payments quickly and securely online using a credit card or bank account.
Advantages:
a) Payment is traceable. You can trace the status of your payment using your PayPal account.
b) Payment does not require you to use your credit card online (you can transfer directly from your bank account). TradeTang doesn't see your credit card number (it is safely encrypted through PayPal's server), which limits the risk of unauthorized use.
2) How to make payment by PayPal?
Buyers go the order process on TradeTang and if you prefer to use PayPal, you will be led to PayPal's page. You are free to pay with your credit card, balance, or E-Cheque.
(2) Western Union
Benefit Name
First Name: zebin
Last name (Family name): wang
Address: Room303, NO.13, Yanpin Yili, Jimei, Xiamen City, Fujian Province, China 361024
With more than 150 years of experience, Western Union is a global leader in money transfer services. It helps consumers and businesses send money quickly and reliably. Below is the information you need for Western Union transfer:
Beneficiary

ZeBin Wang

First Name:ZeBin

Last Name:Wang

Country

China

Address

Room303, NO.13, Yanpin Yili, Jimei, Xiamen City, Fujian Province, China 361024

Telephone

+86-138 6012 3881
1.What is MTCN?
MTCN stands for Money Transfer Control Number, a ten digits number provided by Western Union upon your sending money. It serves a tracking number for sender and the recipient will not be able to collect money without MTCN.
2.What is the Exchange Rate if I pay by Western Union?
Money sent by Western Union will be exchanged according to the exchange rate of the day when it is collected. The amount we receive might be slightly different from that you send as exchange rate keeps changing.
3.What to do once I decide to pay with Western Union?
We need MTCN, your name and address to collect the money. After you choose to pay with Western Union, a new page will be opened, on which you need to fill in the blanks with the money-sending information.
Please make sure the information is exactly the same with that on your receipt given by Western Union agency.
(3) MoneyGram
Benefit Name
First Name: zebin

Last name (Family name): wang
Phone number: 0086-13860123881
Address: Room303, NO.13, Yanpin Yili, Jimei, Xiamen City, Fujian Province, China 361024
(4) Sigue Money Transfer
Benefit Name
First Name: zebin

Last name (Family name): wang
Phone number: 0086-13860123881
Address: Room303, NO.13, Yanpin Yili, Jimei, Xiamen City, Fujian Province, China 361024

Telegraphic Transfer
Intermediary Bank: Deutsche Bank Trust Company Americas
SWIFT BIC: BKTRUS33
Beneficiary Bank: Postal Savings Bank of China
SWIFT BIC: PSBCCNBJ
Beneficiary Account No.: 621098 3930 00476 7297
Beneficiary's Name: ZEBIN WANG
Beneficiary's Address:
705, No.78, JinShang District, JinShang Road, Xiamen City, China
Telephone Numbe: +0086-13860123881

Order Delivery
You also can track all the post shipping information on http://www.17track.net/en/
Note: If you wanna the above delivery service, please email us(sales@446shop.com). As our default shipping way is by Post Parcel Delivery. Thank You!

Shipment Tracking
Please track the order with the tracking number which we sent you on here.