Talkpod N50 3G Android Zello Network Simcard Radio
This Talkpod N50 will ship with Zello pre-installed.
The Talkpod N50 is a mid-to-high end public network handheld radio.
Simple, Slim Styling Design, Smaller, Sleeker, Lighter.
With Auto power-saving mode, Advanced Voice cavity control system and high-power horn, the N50 is IP67 compliant – the highest dust and waterproof standardIt brings you a reliable experience of talking at long distance.Included in the box: Talkpod N50, antenna, battery, belt clip and desktop charger.
GENERAL SPECIFICATIONS

Model Number

Talkpod N50

W3

W4

Frequency Range

GSM: 900/1800MHz;

GSM: 850/1900MHz;

WCDMA: 900/2100MHz

WCDMA: 850/1900MHz

SIM Card Slot

1 x Standard SIM

Speaker

36mm loud speaker

Microphone

High sensitivity

Dimensions (H×W×D)

115x54x36(mm)

Operating System

Android 4.4.2

Chip set

MTK6572M

WiFi

802.11 a/b/g/n

Memory

4GB storage/512MB RAM

Applications

Google Play, Push-to-talk APP

Bluetooth

4.0/BLE (Low Energy)

GPS

Optional

Antenna

High sensitive antenna

Languages Supported

English, Chinese, etc…

Ports

Kenwood Standard Type

Knob

Channel and Volume/On/Off

Dedicated Keys

PTT, SOS, Programmable keys

Weight

280g

Operating Temperature

-10℃ to 55℃

Storage Temperature

-40℃ to 85℃

Operating Humidity

5% – 95% RH

Water Resistance

IP54

Battery Capacity

1650/3200mAh Li-Ion Battery

Battery Life

Standby: 72 h; Talk: 10 h

Certifications

FCC, CE, IC

Warranty

2 Years
To set up and configure Zello for the Talkpod N50 follow these steps.
Installing the Zello app and configuring an account
Since the device doesn't have a screen, you'll need to use a computer to configure it.
Download an Android remote control application to your computer. For example,

Vysor

is one such app that works on both Mac and Windows PCs.

NOTE

: Zello is not affiliated with, or endorsing, Vysor.

Connect the Talkpod to your computer using a USB cable.

Use Vysor to configure the device and install Zello from Google Play or the

Zello website

.
Mapping the push-to-talk button and secondary buttons
In the Zello app, go to Menu>Options>Push-to-talk buttons.

Click the "+" icon, then press the PTT button on the side of the device. The Zello PTT button will be added to the list.

Repeat for additional buttons.

For each button added to the list, you can edit button details and select a specific channel or contact to key up with when the button is pressed. This is especially useful for secondary buttons. For example, you can have secondary buttons mapped to an emergency channel or contact so they are always accessible.
Mapping Zello channels and contacts to the Talkpod channel knob
The Talkpod radio includes a knob (with no stop or markings) that allows you to switch through channels. To map Zello channels to channel numbers on the Talkpod, do the following from the Zello app:
Open the "Channels" screen and then click on the channel that you want to map. The talk screen for this channel will display.

From the talk screen, click on the arrow down icon, then select "Rename channel".

Change the channel name to include a

two-digit numerical prefix

matching the number of the channel on the knob. For example, if you have a channel named "CB Friends" and you want to map it to position #13 of the knob, rename it to "13 CB Friends". For channels with numbers under 10 use a leading zero (i.e. "01", "02" etc). You can map up to 99 channels and contacts combined.

Exit the channel talk screen and then rotate the knob to test your changes. When the channel is selected, its name will be announced using text-to-speech. The channels are switched in their numerical order. For example if you have channels 01, 07 and 13 assigned, rotating the knob will make channels switch in the following order: 01 -> 07 -> 13 -> 01 -> 07, etc.

Repeat steps 1-4 for all of the channels and contacts that you need to map. However, for contacts, instead of selecting "Channels" in step 1, you would open the "Contacts" screen and then select and rename the contacts you want to map. Be careful to use unique prefixes for different channels and contacts.
Please note that when using ZelloWork channel and usernames, the display names are controlled centrally in the ZelloWork web management console. To ensure the correct order of channels and contacts, make sure to rename them appropriately with the management console.
This radio does not work with CDMA-based providers like Verizon or Sprint.
Package Included:
1 x Talkpod N50 Phone
1 x Li-ion Battery
1 x Antenna
1 x Belt Clip
1 x AC Adapter
1 x Desktop Charger
1 x Programming Cable
1 x Sling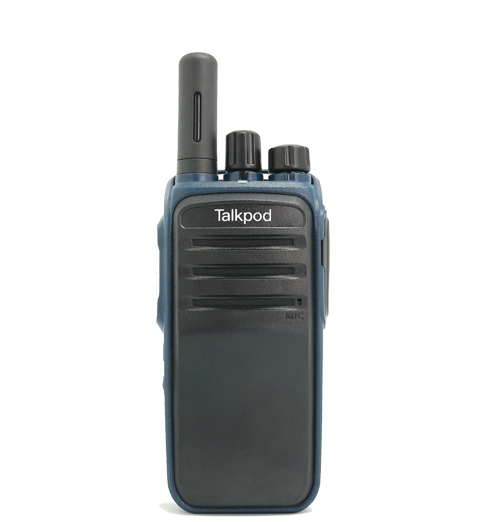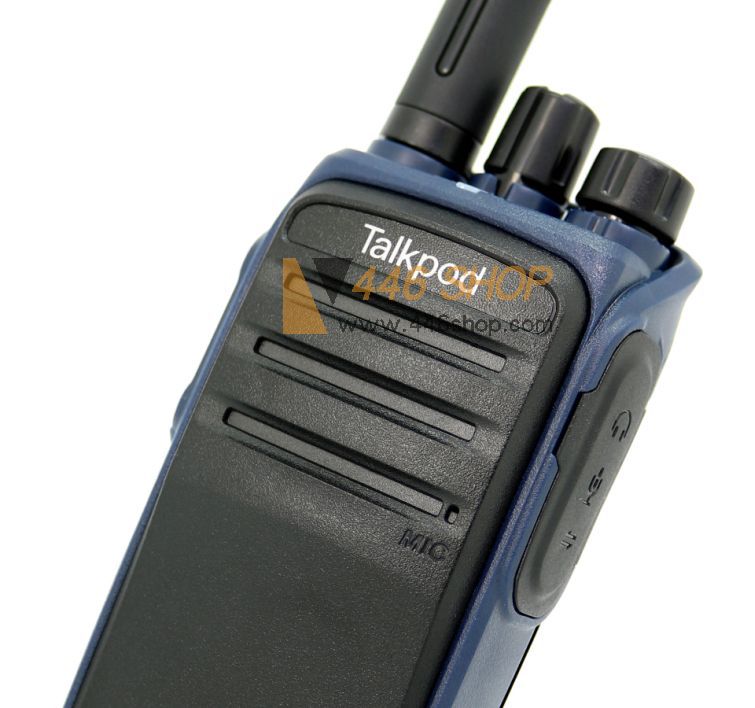 Bank Transfer
BANK TT
Account name (Name of Beneficiary): WANG ZE BIN
Account Number : 6217001930025772758
Bank Name: China Construction Bank, Xiamen Branch
Swift Code:PCBCCNBJSMX
Bank Address: NO.89, Jiyuan Road, Jimei, Xiamen, Fujian Province, China

BANK Payment Policy:
Please confirm correct payment Currency is same our order. ( Not include the handling charge from your bank and our bank account. )

Request information as below :
1) Send money total amount
2) Received Name from Payment
3) 446shop Order number
4) Sender Name
E-mail : sales@446shop.com
Notice:
Dear customers:
To aviod the controversial, please ask for the bank about the handling fees and where to deduct before the remittance.
If you don't make it clear, your Bank will deduct the charges from your remittance.
That means the remittance that you send to us will be reduced.
If payment is not enough, our company will not send out order until we got full payment.
Please pay attention and sorry for any inconvenience caused.

Online Payment
(1) PayPal Account: adams.jobs@hotmail.com
1) Why PayPal?
PayPal enables you to send payments quickly and securely online using a credit card or bank account.
Advantages:
a) Payment is traceable. You can trace the status of your payment using your PayPal account.
b) Payment does not require you to use your credit card online (you can transfer directly from your bank account). TradeTang doesn't see your credit card number (it is safely encrypted through PayPal's server), which limits the risk of unauthorized use.
2) How to make payment by PayPal?
Buyers go the order process on TradeTang and if you prefer to use PayPal, you will be led to PayPal's page. You are free to pay with your credit card, balance, or E-Cheque.
(2) Western Union
Benefit Name
First Name: zebin
Last name (Family name): wang
Address: Room303, NO.13, Yanpin Yili, Jimei, Xiamen City, Fujian Province, China 361024
With more than 150 years of experience, Western Union is a global leader in money transfer services. It helps consumers and businesses send money quickly and reliably. Below is the information you need for Western Union transfer:
Beneficiary

ZeBin Wang

First Name:ZeBin

Last Name:Wang

Country

China

Address

Room303, NO.13, Yanpin Yili, Jimei, Xiamen City, Fujian Province, China 361024

Telephone

+86-138 6012 3881
1.What is MTCN?
MTCN stands for Money Transfer Control Number, a ten digits number provided by Western Union upon your sending money. It serves a tracking number for sender and the recipient will not be able to collect money without MTCN.
2.What is the Exchange Rate if I pay by Western Union?
Money sent by Western Union will be exchanged according to the exchange rate of the day when it is collected. The amount we receive might be slightly different from that you send as exchange rate keeps changing.
3.What to do once I decide to pay with Western Union?
We need MTCN, your name and address to collect the money. After you choose to pay with Western Union, a new page will be opened, on which you need to fill in the blanks with the money-sending information.
Please make sure the information is exactly the same with that on your receipt given by Western Union agency.
(3) MoneyGram
Benefit Name
First Name: zebin

Last name (Family name): wang
Phone number: 0086-13860123881
Address: Room303, NO.13, Yanpin Yili, Jimei, Xiamen City, Fujian Province, China 361024
(4) Sigue Money Transfer
Benefit Name
First Name: zebin

Last name (Family name): wang
Phone number: 0086-13860123881
Address: Room303, NO.13, Yanpin Yili, Jimei, Xiamen City, Fujian Province, China 361024

Telegraphic Transfer
Intermediary Bank: Deutsche Bank Trust Company Americas
SWIFT BIC: BKTRUS33
Beneficiary Bank: Postal Savings Bank of China
SWIFT BIC: PSBCCNBJ
Beneficiary Account No.: 621098 3930 00476 7297
Beneficiary's Name: ZEBIN WANG
Beneficiary's Address:
705, No.78, JinShang District, JinShang Road, Xiamen City, China
Telephone Numbe: +0086-13860123881

Order Delivery
You also can track all the post shipping information on http://www.17track.net/en/
Note: If you wanna the above delivery service, please email us(sales@446shop.com). As our default shipping way is by Post Parcel Delivery. Thank You!

Shipment Tracking
Please track the order with the tracking number which we sent you on here.