UHF 5W FM transceiver Bluetooth built-in walkie talkie NKT Brand 960B radio
Built-in Bluetooth two way radio
Functions:
1. Frequency Range: 136-174MHz / 350-390MHz / 400-470MHz
2. HLF DEV Options
3. RF output power H: 4W / L: 2W
4. QT and DQT Signalings
5. Channels storage: 15+s
6. TOT: OFF/30/60/90/120/150/180s
7. VOX: OFF/1-9
8. Bluetooth Function
9. Emergency Channel Operation
10. BCLO (Busy Channel Lock-out)
11. Channel Scanning/Priority Channel Scanning
12. 0-9 level Squelch Setting
13. Battery Save Function
14. Monitor
15. Low Voltage Indication / Alarm
16. PC Chinese and English Programming Software and Each Copy Function
How to activate the built-in Bluetooth function? Please see below:
Bluetooth Operation Instruction
Operating Steps
Press MONI key for 2 sec, release it. Then the indicator blinks alternatively in red and greee. Turn the Bluetooth headset that beside the walkie talkie on (The Bluetooth headset indicator blinks in red and blue). The walkie talkie indicator blinks in red and green every 3 minutes and Bluetooth headset indicator blinks in blue every 2 sec. Paring finished within 3 minutes. The walkie talkie turns to walkie talkie mode automatically and indicator stops blink if they aren't well paired in 3 minutes.
Pairing method
A: Long press the "power" button of the Bluetooth headset. (The walkie talkie turns to walkie talkie mode after Bluetooth headset turned off.)
B: Press the MONI & Alarm key of the walkie talkie simultaneously. (The Bluetooth function of the walkie talkie is turned off.)
1 x 7.4V 2000mah Li-ion Battery Pack

1 x Antenna

1 x Belt Clip

1 x ENG Manual

1 x Desktop Charger ( 100V ~ 240V )+(2pin USA or 3pin UK or 2pin EURO or 2pin Australia)

1 x LB-350i bluetooth headset

1 x Bluetooth charger

1 x Sling
If bulk order, please contact Ms. Amy Huang:
Tel: 86(592)2653580
Fax: 86(592)3720556
SKYPE: amy.446shop
Email: amy@446shop.com
Beautiful and strong outlook: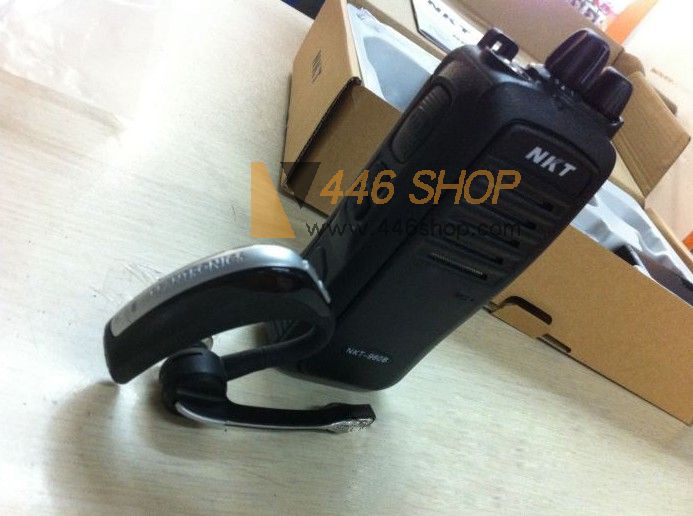 Professional walkie talkie transceiver: 400-470mHz, 5W.
It comes with a high-capacity lithium battery- 2000mAh.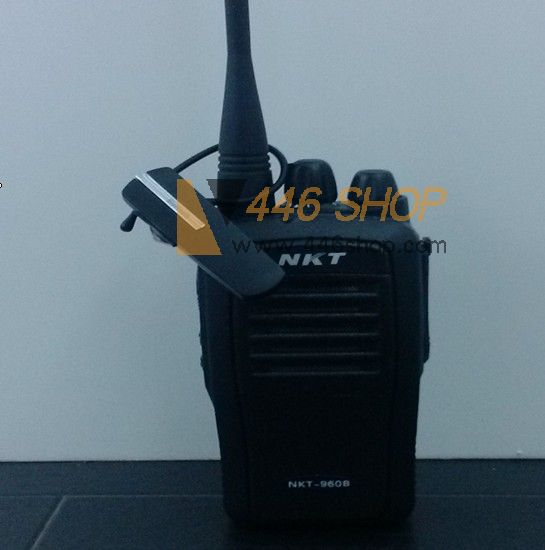 Mini wireless Bluetooth ear hook: