STANDARD HORIZON HX280S Submersible Handheld VHF Radio
Submersible JIS-7 / IPX7 (3.3 feet for 30 minutes)

Slim, form fitting case design

More than 13 hours of battery life

Selectable 5 and 1 Watt transmit power output

Supplied with a 1650mAh

Lithium-ion

battery, 110 VAC and 12 VDC chargers and a cradle

Huge channel display

All USA/International and Canadian Marine Channels

Programmable Scan, Priority Scan and Dual Watch

NOAA Weather channels and Weather Alert

Key lock

Squelch level on display

Low battery indicator

Preset key used to recall up to 10 favorite channels

Optional FBA-40 Alkaline Battery tray available

3 Year Waterproof Warranty
FEATURES
Slim, form fitting case
Designed from the ground up to fit well in your hand and with large keys and volume knob it is easy to operate even with gloves.
1650mAh Lithium-ion battery
Supplied with a 1650mAh Li-Ion battery that will last for more than 13 hours on a single charge.
Value packaged with accessories
The HX280S is supplied with a Li-Ion battery, Antenna, belt clip, AC, DC chargers and charging cradle.
Advanced features
The HX280S includes the best of the basics and also advanced features: Programmable Scan, Dual Watch, Ch16 Priority Scan; NOAA weather channels with weather alert, selectable 5 and 1 Watt transmit power, 10-channel preset key and a battery life indicator.
It's built better so backed better
Because the HX280S is built better, it's back better. If your Standard Horizon HX280S ever fails for any reason including water damage during normal use in the first three years, STANDARD HORIZON will repair or replace it free, without hassle or charges…period! If it fails thereafter in normal use it for the life time of the product it is covered by Standard Horizon's Lifetime Flat Rate Service Program.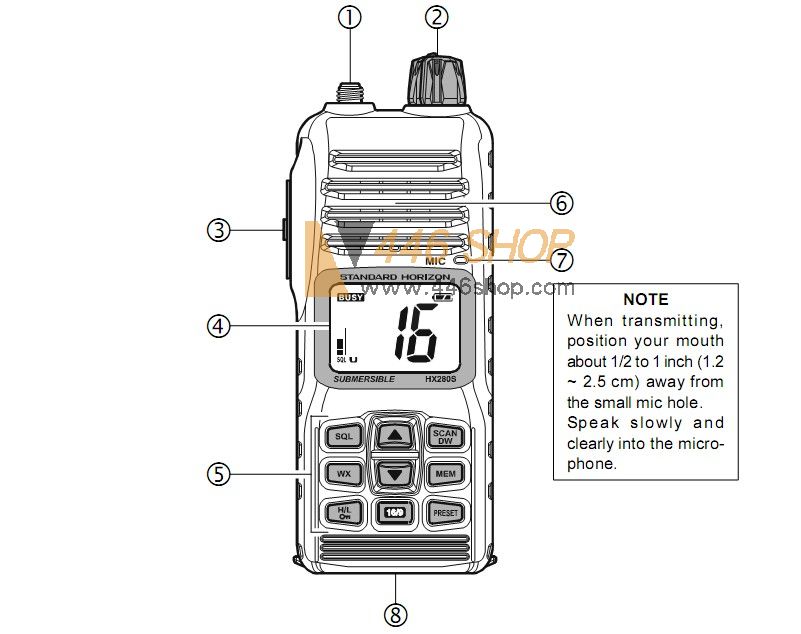 ①ANT Jack (Top Panel)
The supplied CAT460 flexible antenna is attached here.
②POWER Switch/VOLUME Control (VOL)
Turns the transceiver on and off as well as adjusts the speakers audio
volume.
Turn this knob clockwise to turn the radio on and increase the speakers
audio volume.
Turn fully counter-clockwise to turn the radio off.
③PTT(PUSH-TO-TALK)Switch
When pushed activates the transmitter.
④LCD Display
This display shows current operating conditions, as indicated on the page
17.
⑤Keypad
[ SQL ] Key
Press this key to activate the squelch adjusting mode. Press the [] or []
key to adjust the squelch threshold level.
Press and hold this key for 3 seconds to open the squelch, allowing you to
monitor the operating channel. Release the key to resume normal (quiet)
monitoring.
⑥Speaker
The internal speaker is located here.
⑦Microphone
The internal microphone is located here.
When transmitting, position your mouth about 1/2 to 1 inch (1.2 ~ 2.5 cm)
away from the small mic hole. Speak slowly and clearly into the micro-
phone.
⑧Battery Pack Lock (Bottom side)
Slide the Battery Pack Lock to the "▲" position for battery removal.
PECIFICATIONS
Performance specifications are nominal, unless otherwise indicated, and are
subject to change without notice.
GENERAL
Frequency Ranges: TX: 156.025 MHz - 157.425 MHz
RX: 156.050 MHz - 163.275 MHz
Channel Spacing: 25 kHz
Frequency Stability: ±5 ppm
(–4 °F to +140 °F [–20 °C to +60 °C])
Emission Type: 16K0G3E
Antenna Impedance: 50Ω
Supply Voltage: 7.4V DC, Negative Ground
(Battery Terminal)
Current Consumption: 320 mA (Receive, Typical at AF MAX.)
50 mA (Standby)
1.6 A / 0.7 A (TX: 5 W / 1W)
Operating Temperature: –4 °F to +140 °F (–20 °C to +60 °C)
Case Size (W x H x D): 2.20" x 5.24" x 1.08" (56 x 133 x 27.5 mm)
(w/o knob & antenna)
Weight (Approx.): 10.9 oz (310 g)
(w/FNB-V105LI, Belt Clip, & Antenna)
TRANSMITTER
RF Power Output: 5 W / 1 W (@7.4 V )
Modulation Type: Variable Reactance
Maximum Deviation: ±5 kHz
Spurious Emission: –75 dBc typical
Microphone Impedance: 2 kΩ
RECEIVER
Circuit Type: Double-Conversion Superheterodyne
Intermediate Frequencies: 1st: 21.7 MHz, 2nd: 450 kHz
Adjacent Channel Selectivity: 70 dB typical
Intermodulation: 68 dB typical
Hum & Noise Ratio: 40 dB typical
Sensitivity: 0.25 μV for 12 dB SINAD
Selectivity: 25 kHz (–70 dB)
AF Output (Internal SP): 700 mW @16 ? for 10 % THD (@7.4 V)
Measured in accordance with TIA/EIA-603
EACH SET STANDARD PACKAGE CONTAIN:
1 x Standard Horizon HX-280S

1 x FNB-V105LI 7.4V 1650mAh Li-ion battery

1 x CT-46 Charger Cradle,

1 x AC adapter (NC-88B for 110V / NC-88C for 220V)

1 x CLIP-902 Quick Draw Belt Clip

1 x CAT460 Antenna,

1 x E-DC-19A Cable with Cigar Lighter Plug

1 x English manual
If bulk order, please contact Ms. Amy Huang:
Tel: 86(592)2653580
Fax: 86(592)3720556
SKYPE: amy.446shop
Email: amy@446shop.com