3500mAh Power Bank
UHF400-470MHz
Two Way Radio
iPhone
Phone Case for
X/6/7/8
iRaddy GM-series 3-in-1 UHF Phone Case Two-way Radio Rechargeable Extended Battery Anti-drop Cell for iPhone
3 in 1 400-470MHZ UHF 5KM Interphone Outdoor Walkie Talkie + 3500mAh Power Bank + Phone Case for iPhone X/6/7/8
About iRaddy GM -Series
As a UHF radio, it provides an LCD screen and 4 function keys for simple operation, that's why it fits for the security team, construction team, warehouse, factory, kitchen staff, hotel, retail store, school staff, wild trip, etc. Battery phone case design makes it portable in your daily life, you can add as many sets as you want and they work great together.
Specification
◆ BULLET POINT ◆

1. 3-in-1 UHF Two-way Radio: The GM radio is designed as a phone battery case, but it is a true UHF radio with LCD screen. Turn on to use with easy manual operation, no need to program.
2. Great Design for Phone Protection: The GM radio is designed as a phone case for iPhone series, TPU material makes it lightweight, double material injection strengthens its hardness for drop-resistant and shockproof
3. High Capacity Power Bank: The GM radio can also be a power bank with 3500mAh capacity, don't worry your phone is out of power.
4. Long Working Time: Normal walkie-talkie has a small battery capacity, but GM series owns a larger battery for a much longer time using, it fits for team outdoor travel, hotel management, construction site, etc.
5. Anti-drop Design, 360° Protection: Polycarbonate and fiberglass double-shell material make it shockproof and drop-resistant. Fully cover by TPU material gives your phone 360°protection.
6. 8 Languages & Clear Sound: 8 languages are available of the GM Radio, furthermore, it's built-in a high-quality speaker, clear and loud sound to ensure your call quality.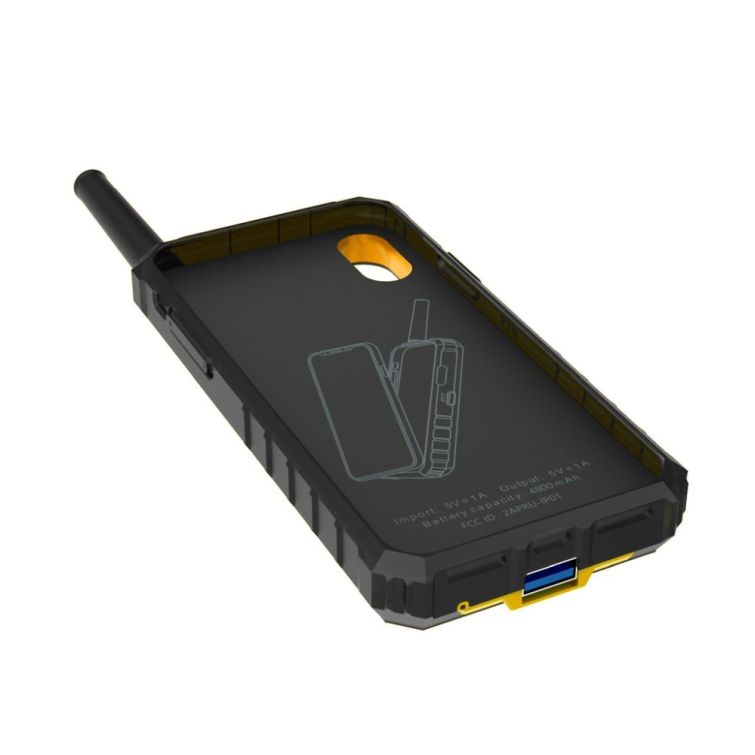 For any assistance, contact us directly to get support.
If bulk order, please contact Ms. Amy Huang:
Tel: 86(592)5995025
Fax: 86(592)3720556
WhatsApp / Viber / LINE / Telegram: 0086 18159282307
WeChat / IMO: 0086 13860123881
SKYPE: amy.446shop
Email: amy@446shop.com
Note: GM3/4/5 are compatible with different iPhone model.
| | | |
| --- | --- | --- |
| iRaddy | Color | Compatible Phone Model |
| GM 3 | Green | iPhone 6/6S/7/8 (4.7 in) |
| GM 4 | Yellow | iPhone 6P/6SP/7P/8P (5.5 in) |
| GM 5 | Yellow | iPhone X/XS (5.8 in) |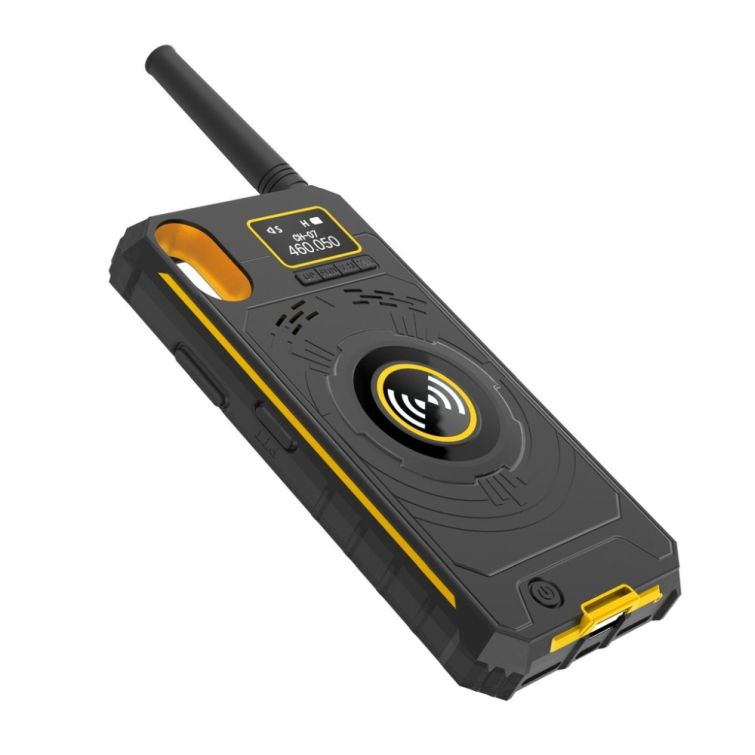 Feature:
1. Model UHF Broadband setting 400-470MHz
2. OLED Screen display
3. super long distance correspondence
4. 16 storage correspondent channels
5. manual operation change frequency
6. figure volume control
7. 50 groups simulate(QT) and 104(DQT)
8. high/low power optional
9. power saving
10. quiet or noise optional
11. breadth/narrow optional
12. stepping optional
13. TOT feature
14. Support multiple languages
15. Super long standby time(120 hours)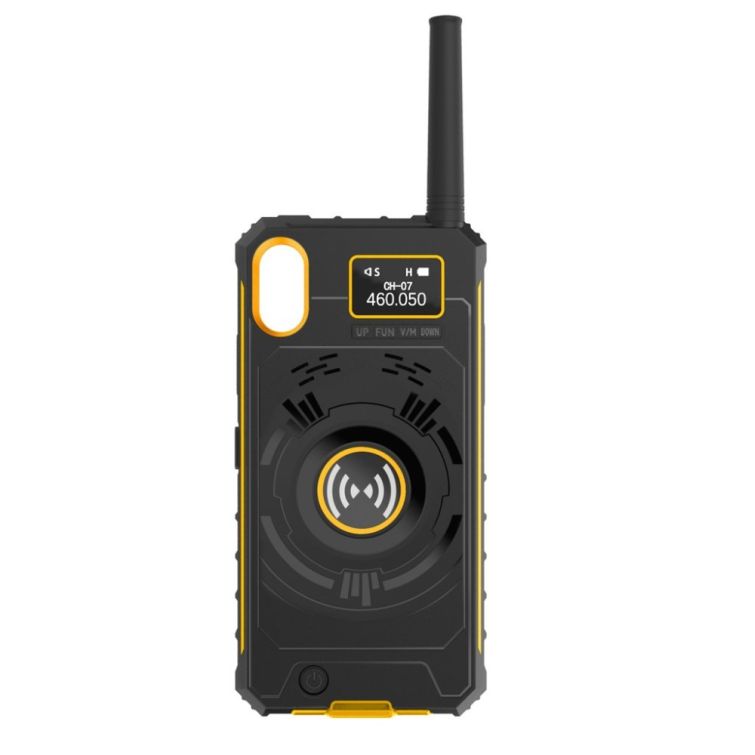 Functions:
1. Frequency range: 400 - 470MHz
2. Number of channels: 16
3. Output power: 1.9 +/ - 0.2W
4. Communication distance: 2 - 5km
5. Rated voltage: DC 3.7V
6. Input voltage: 5V 1A
7. Channel spacing: 25KHz
8. 2 size antennas: Long antenna up to 3 miles, short antenna up to 1.8 miles
9. Battery: 3500mAh ( included in product )
10. Battery standby time: 120 hours
11. USB port for recharging radio and charging the phone
12. LCD crystal display screen
13. Ultra long-distance and long working time
14. As a phone case for IP6, IP7, IP8, and IPX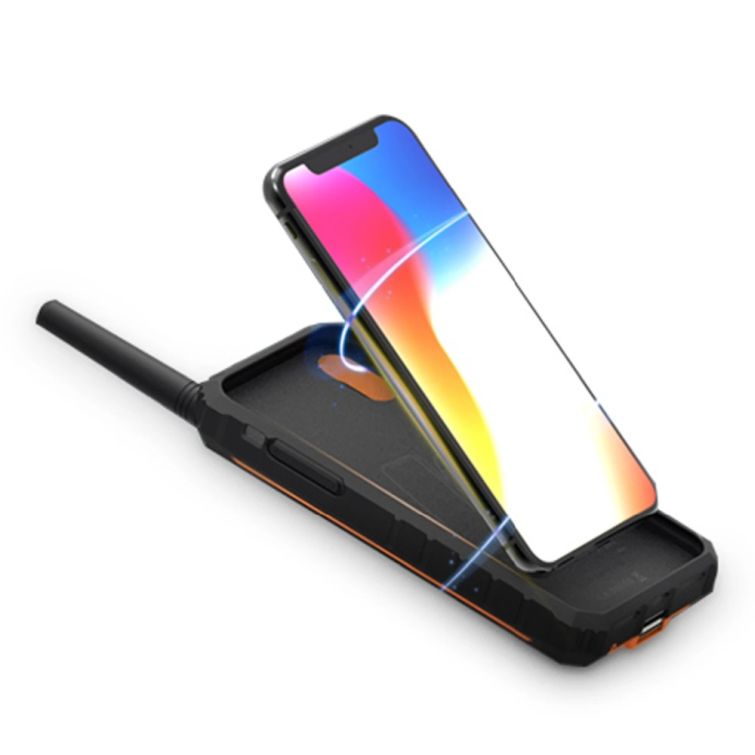 Technical index
1.working frequency:400-470MHZ、
2.correspondent channel interval:25KHZ
3.Voltage:DC3.7V
launch part of technical index
1.rate of work in launching:0.5-3W
2.frequency of g&ap:±500HZ
3.chrip radiation:≤7.5uW
4.adjacent po&wer:≤65DB
5.launching of biggest talk off charts:≤5KHZ(input 1KHZ,range 300mV)
6.subaudio modulation frequency offset:0.7±0.2KHZ
7.audio distortion:≤7%
8.The bottom of the launch noise:≤0.2KHZ
9.Emission current:≤1.4A
receiving part of technical index
1.receive sensitivity:≤0.2uV 12DB(SINAD)
2.adjacent channel selectivity:≥60DB
3.spurious response immunity:≥60DB
4.intermodulation immunity:≥60DB
5.Maximum audio power:≥500mW
6.Audio distortion:≤7%
7.receiving end noise:≤60mV
8.receive current:≤400mA
Each Set Package Contain:
1 * Two-Way Radio Ipone Case Power Bank (3-in-1)
1 * Radio Power Cable
1 * Power Bank Cable
1 * Short Antenna (3km | 1.86mi)
1 * Long Antenna (5km | 3.1mi )
1 * Antenna Cap
1 * Lanyard
1 * Instruction Manual
1 * Packing Box
1 * Programming Cable for Two Way Radio